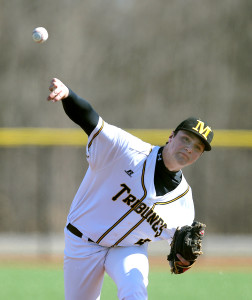 By PAUL GOTHAM
ROCHESTER, N.Y. — Credit Zach Vennaro for a willingness to face the truth.
Less than one week after suffering his first loss of the season, the sophomore hurler was back on the mound against the same opponent. This time he turned the tables.
Vennaro pitched a post-season gem, and the Monroe Community College Tribunes defeated the Mercyhurst North East Saints, 11-6 in game one of the NJCAA Region 3 Division 2 Championship Series.
Vennaro scattered six hits, struck out six and walked one over seven shutout innings to improve to 8-1 on the season.
"I had the changeup working today which helped a lot," the 6-4 right-hander said. "They didn't do much against the changeup. I was able to throw it any time in the count."
Last Saturday, Mercyhurst NE touched Vennaro for six runs (five earned) over six and a third innings including a five-run sixth when the sophomore surrendered two extra-base hits including a three-run home run to Zach Miller.
On Friday, Vennaro retired 10 straight from the second through the fifth innings.
"I'm going to be honest, I thought about it all week," Vennaro said. "I was mad. I couldn't wait to get back out here and play."
With the Mercyhurst lineup held in check, Monroe put crooked numbers on the scoreboard in four of the first six innings.
"Regardless of the run support, Zach was very good," Monroe coach Dave Brust said. "Mercyhurst, they're one of the best college hitting teams period. To keep them down is an incredible effort.
"You can see when you give them an opportunity. You give them an extra out in an inning or you walk a guy, man, they cash in every single time. They're good, and we can't give them opportunities. Zach did a great job of keeping them off-balance."
Johnny Ricotta (Greece Athena) paced the offense early with four RBI in the first four innings. The Tribune first baseman plated Matt Brooks (Auburn) and Connor Lewis (St. Marguerite d'Youville) with a one-out single in the first.
In the the third, Ricotta doubled home Alex Saville (Vernon-Verona-Sherrill), and the Tribunes were on their way.
"The guys ahead of me in the order were doing a good job getting on base," Ricotta said referring to his teammates. "They were pretty much in scoring position with less than two outs. That makes my job pretty easy."
Ricotta plated Brooks with a sacrifice fly in the fourth and added his fifth RBI with a solo shot to start the sixth inning off Mercyhurst NE reliever, Jordan Ransom.
"He was throwing me a lot of soft stuff early in the at bat," Ricotta explained. "He got me down two strikes pretty early, and he threw me a change up, low and in. I just dropped the barrel on it. I wasn't trying to do too much with it, but I got a good piece of it."
Ryan "Bubba" Boutelle (Gowanda) sparked the three-run fourth with a solo shot off Mercyhurst starter, Nolan Freeman.
"He was throwing mostly first pitch fastballs," Boutelle said. "He was throwing them all night. I just started my load early, put my foot down and got one down the line."
Monroe made it 9-0 game in the fifth when Mike Pringle (Pittsford-Sutherland) doubled home a pair of runs.
Six different players finished with multi-hit games as the Tribunes pounded out 15 hits.
"We've done a good job of that the whole year," Brust said of the offense. "Guys control the strike zone. When the opportunity is there, there isn't a single guy in our lineup who does not have control of having a quality at bat. The focus is to put the ball in play and be aggressive early in the count, and we do a good job of that."
Monroe's gloves gave Vennaro support when he needed it. Luke Brust (Honeoye Falls-Lima) turned in a handful of spectacular plays in centerfield including a diving catch for the second out of the first inning on a sinking line drive off the bat of Drew Delsignore.
"I love him out there, Vennaro said of his teammate. "He made five or six great catches today. If he doesn't catch those balls, it's probably two, three, four runs."
Game two of the best-of-three series is scheduled for Saturday with a 3 p.m. first pitch.