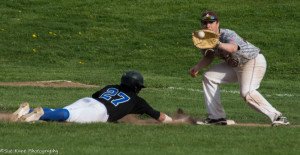 By PAUL GOTHAM
ROCHESTER, N.Y. — A decisive third inning proved the difference as the Greece Arcadia Titans defeated the Batavia Blue Devils, 13-0 in Monroe County League action, Thursday.
Greece Arcadia claimed its second straight division title with the win.
Dan Freese sparked the seven-run frame with a hit which traveled less than 70 feet.
"I thought it was a pretty good bunt, Freese said. It was a close play at first, and it kinda triggered the merry-go-round."
By the time carnival ride stopped, 13 Titans trotted to the plate, and the Monroe County Division IV title was all but but decided.
Four different Titans squared for bunts in the inning including Nick Horton's squeeze to plate Kevin Blum.
"That's our M.O., though, we play a lot of small ball," 18-year Greece Arcadia coach Chris Ruggieri said. "Most teams know we play a lot of small ball. We work on it. I think in high school a lot of teams don't defend it very well."
Brian Rivera started the stanza with a bunt single down the third base line. Alex Rodriguez reached when he was hit by a pitch, and Freese got the scoring started when he pushed one to the third base side of the pitcher's mound.
"With guys on first and second I want them to bunt the ball to third base," Ruggieri explained. "It makes for a tough play…The pitcher's got to make the play. He's got to come and get the ball. He's got to turn around and throw."
Batavia's Trevor Sherwood scampered off the mound to field the ball, but he couldn't get the speedy Freese. The left-hander's throw went into foul territory allowing Rivera to score from second.
Blum followed with a flare to left center scoring another run. Justin Augustine brought in another run. Joe Skibinski added an RBI single up the middle.
"It feels good," Freese said when asked about the consecutive titles. "Both last year and this year we've had pretty good teams and a pretty good record in the division the last few years. It's been a lot of fun."
Neal McMullen allowed four hits over five shutout innings for the win. The junior right-hander struck out two and walked one.
"He's not over-powering, but he throws a lot of strikes," Ruggieri said. "That gives him the advantage.He can throw three or four pitches for strikes."
More importantly, McMullen took the mound after the seven-run third and pitched to contact getting his team back in the dugout after five batters.
"His slider is great," Ruggieri added. "It looks like a fastball. His arm speed stays the same. It's a little softer than his fastball, but it's tough to read, and he keeps it down."
"My goal was just to go out there and throw strikes for my teammates to make plays," McMullen said. "That's what they do best. I was trusting them."
Thomas Finnerty faced four batters in a scoreless sixth inning. Anthony Kane worked a shutout seventh.
Greece Arcadia's infield turned three double plays on the day.
"If they hit the ball, I knew my team was going to be there," McMullen stated.
VIEW MORE SUE KANE PHOTOS HERE.
Skibinski doubled home two runs in the fourth.
Augustine added another pair of runs with RBI two-bagger to straight away center field.
Batavia took the earlier matchup between the two teams, 4-2 on April 29th. Sherwood surrendered just two hits over 5.2 shutout innings in the previous meeting.
Greece Arcadia improved to 18-2 overall and 7-1 in the division. Batavia fell to 13-5 and 6-2.