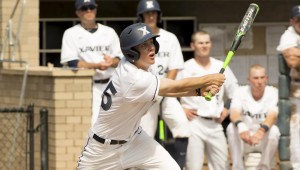 Courtesy of GoXavier.com
NEW YORK – Freshman Chris Givin was named the BIG EAST Player of the Week on Monday, marking the first such honor for Xavier baseball this season. The award comes after a weekend sweep at Seton Hall, which extended the Musketeers' season-best winning streak to eight consecutive games.
Givin, a native of Castle Rock, Colo., led Xavier with a .500 batting average for a second straight series – this time going 6-for-12 and tying for the team lead in hits (6), runs (5), RBI (3) and doubles (3).
Givin led XU with 12 total bases and hit the team's lone homer of the weekend – the second of his career. The second baseman reached base eight times overall, putting up a .571 on-base percentage while recording at least one run, RBI and hit in all three games. In game two at SHU, Givin tied a career-high with three hits.
Riding a four-game hitting streak, Givin leads XU with a .301 batting average for the season and is second on the team with a .357 batting average in league play.
Brad Kirschner was named to the BIG EAST Weekly Honor Roll as well on Monday, earning the honor after tossing 6.2 innings of one-run relief on Saturday to pick up the win. The junior lefty scattered six hits and struck out six to improve to 4-2 on the season.
WEEKEND NOTES
• The weekend sweep at Seton Hall was huge for Xavier, putting the team solidly in second-place in the BIG EAST standings with six games to play.
• Xavier is now just behind first-place Creighton (10-2) and will host CU this weekend for three games at Hayden Field.
• The Pirates had come into the weekend 20-2 at home and had allowed 10 runs or more just once on the year. Xavier plated 10 in both games of a Saturday doubleheader and took all three games at Owen T. Carroll Field.
• It was the fourth weekend sweep of the year for XU and its second in a row.
• The sweep marked the first time the Musketeers have taken three straight series since 2011.
• The team's eight-game winning streak is its longest since March 6-18, 2011 and matches the second-longest in school history. XU has won nine straight on three separate occasions (2011, 1975, 1972).
UP NEXT
• Xavier (22-26, 9-3 BIG EAST) returns to action on Tuesday afternoon, hosting Northern Kentucky (18-31, 7-19 Horizon League) in a non-conference game at 3 p.m. ET.