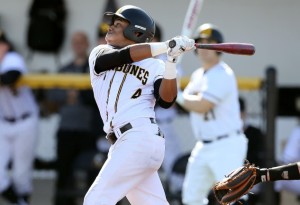 By PAUL GOTHAM
ROCHESTER, N.Y. — Connor Lewis (St. Marguerite d'Youville) clubbed three extra-base hits, Colin Johnston (Greece Athena) pitched into the eighth, and the Monroe Community College Tribunes clinched the NJCAA Region DII title with a 10-3 victory over Mercyhurst NE in the nightcap of a doubleheader.
Lewis connected on a two-run double to left field in a three-run sixth inning giving the Tribunes a commanding 7-1 lead. The two-bagger was the sophomore shortstop's second in as many at bats.
"He threw me two curve balls," Lewis explained. "I knew when we were at their place they threw me a lot of off-speeds. I wasn't sitting curve ball, but I was looking curve ball, and he threw it up there. That's probably the best swing I've had all year."
Luke Brust (Honeoye Falls-Lima) started the rally wit a one-out walk. Ryan "Bubba" Boutelle (Gowanda) followed with a base hit to center. Braden Passmore (Rush-Henrietta) drove in the first run of the inning with a single to center. Alex Saville (Vernon-Verona-Sherrill) reached when he was by a pitch, and Lewis followed from there.
"It's good to win  the conference," Lewis said. "Especially taking two at their place. We knew we needed to take at least one here, and we'll take another one tomorrow. That was big coming after the loss (in the first game of the doubleheader)."
Two innings later, Lewis scored three with an inside-the-park home run.
""Brownie's funny when he's sending people," Lewis said of third-base coach Cory Brownsten. "He'll send people so that you're running hard to the bag, and then stop them at the last moment. I saw him really going, so I just put my head down and was running through the bag."
Lewis finished the game 4-for-5 with six RBI.
"I was due a little bit though," Lewis stated.
Johnston allowed three runs on eight hits for his seventh win of the season. The freshman right-hander known for his sinking fastball finished with 13 ground ball outs and six fly outs for the game.
Luke Tomczyk (Churchville-Chili) came on in the ninth and retired all three batters he faced on punch outs.
Lucas Godlewski (Little Falls) worked two-thirds of shutout ball.
Boutelle finished with two hits and two runs scored in the game.
Collin Stack (Maple Grove) chipped in with two hits as well.
Lewis connected on a two-run home run in the opener as part of a three-run fifth, but the Tribunes could not hold.
Jesse Staudt finished 3-for-5 in game one including a two-run home run in the ninth as Mercyhurst NE took game one, 8-4. Zack Miller added a three-run shot in a five-run fifth when the Saints took a lead they would not surrender.
Mercyhurst starter, Nolan Freeman, allowed four runs (three earned) on seven hits for the win. Joe Grober worked an inning and a third for the save.
Stack finished with two hits in game one.
With the win in game two, Monroe clinched home-field advantage in next weekend's Region 3 DII Championship Series. The series schedule is TBA.