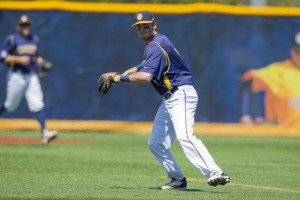 Courtesy of GoGriffs.com
FAIRFIELD, Conn. – The Canisius baseball team dropped a critical MAAC contest to Fairfeld, 7-3, on Sunday, as the two squads jockeyed for the top-spot in the MAAC. With the victory the Stags win the series 2-1, and take sole possession of first place. The loss drops Canisius' record to 26-23, and 12-6 in MAAC play, while Fairfield improves to 23-22 and 13-5 in the MAAC.
The Fairfield offense erased a three-run deficit in the middle innings, scoring all seven runs between the third and seventh frames, to help secure the victory.
Canisius senior Alex Godzak got the start and worked 2.1 innings in the game, as he allowed two hits and two earned runs in the no-decision. Aaron Casper took the loss as he pitched 2.2 frames, and surrendered four hits and two earned runs to drop to 6-1.
Michael Ginther, Tyler Smith and Iannick Remillard combined for the final two innings and gave up three hits and three runs to end the contest.
The Blue and Gold managed to outhit the Stags but, couldn't bring runners in when it counted. Canisius stranded 14 baserunners in the contest as Fairfield only left six aboard.
Tim Kensinger led the hit parade as he went 4-of-5 from the dish, along with two RBI in the contest. Ryan Stekl also notched an RBI. Anthony Massicci continued his torrid stretch at the top of the order, belting two hits in five at bats for the Griffs.
Canisius scored in the first inning, as Stekl grounded out to shortstop, which brought in Massicci to score from third. The Griffs added to that in the top of the third, as Kensinger rapped out a single to left field, plating Adam Tricarico and Liam Wilson, to make it 3-0.
The Stags answered in the bottom of the third, as Kevin Radziewicz drove in a pair, singling through the right side of the Griffs defense. With the score 3-2, Fairfield struck again in the bottom of the fifth frame, as Jake Salpietro doubled to lefti field to score Michael Conti. Mac Crispino followed that up with a groundout into a double-play, which took long enough to develop, to score Salpietro.
The Stags again plated a run in the bottom of the sixth as Drew Arciuolo notched the sacrifice fly, bringin in Troy Scocca, to make it 5-3.
Fairfield added two more runs in the bottom of the seventh to push the lead further, as the squad held the Griffs scoreless for the final six frames to secure the 7-3 win.
Canisius now comes home for its final series at the Demske Sports Complex on May 14 and 15. That Saturday the Blue and Gold will square off in a doubleheader with Quinnipiac, followed by the finale on Sunday.