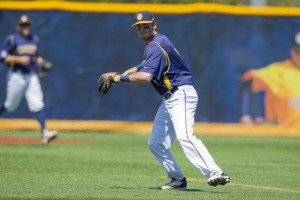 Courtesy of GoGriffs.com
YOUNGSTOWN, OHIO – The Canisius baseball team cruised to a 10-2 victory over Youngstown State in the series finale Sunday, scoring seven runs in the first four innings, in the victory. With the win the Griffs improve to 25-19, while the Penguins drop to 10-28.
The offense, which had been stifled in game No. 2 in the series, got going early in game three. Canisius scored at least one run in the first four innings of the contest.
However the fourth inning proved to be the knockout blow, as the Blue and Gold scored four runs on one swing of the bat, to make the score 7-2.
Canisius treated Sunday as a pitcher-by-committee afternoon, throwing six pitchers through the nine innings.
J.P. Stevenson who made his first start in several weeks, began on the hill, and worked a scoreless first frame, surrendering two base runners by way of the walk.
Zachary Sloan then picked up in the second and worked the next 1.2 innings, and yielding two hits and two runs, one earned. Mike Elwood came on and got the Griffs out of a jam, and proceeded to pitch the next 4.1 frame, and scattered four runs and no runs in that stretch.
Jake Casey and Tyler Smith combined for the final two innings and kept the Penguins in check to preserve the eight run advantage.
The Blue and Gold rapped out 11 hits during the game, with the top of the order doing much of the damage.
Anthony Massicci led the way with three hits from the top of the order, going 3-of-4 from the dish.
Jake Lumley had another big day for the Griffs, recording two hits in three at bats and tallied six RBI in the win.
While the Griffs scattered a run apiece through the first three innings, the big damage was done off the bat of Lumley who drilled a grand slam to right field. Prior to the blast, Jack Massa reached base on a walk, Alex O'Donnell reached on a throwing error, and Massicci reached on a walk to load the bases. Lumley made sure to score everyone, connecting on the sixth pitch of the at-bat.
The Griffs went on to score three runs in the eighth to cap the scoring, as the squad finished the series with a 10-2 victory.
The Blue and Gold get ready for a busy week as the squad faces Buffalo and St. Bonaventure in non-conference contests on the road, before preparing for a key conference-matchup against Fairfield on Saturday and Sunday.