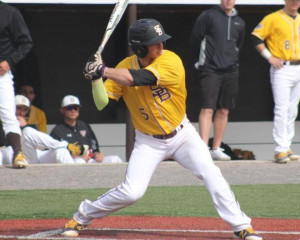 Courtesy of GoBonnies.com
ST. BONAVENTURE, N.Y. – The St. Bonaventure baseball team rode a stellar outing from starter Brandon Schlimm for a 3-1 game one victory before Thad Johnson delivered a walk-off grand slam to cap a 6-3 come-from-behind triumph in 12 innings as the Bonnies swept an Atlantic 10 doubleheader from La Salle Saturday.
Saturday's wins give the Bonnies the series victory over La Salle and move the Brown and White to 20-17-1 overall and 6-9 in the Atlantic 10 while the Explorers fall to 13-32, 4-11.
GAME ONE – St. Bonaventure 3, La Salle 1 | Box Score (PDF)
Sophomore Brandon Schlimm went the distance for his second complete game of the season, limiting La Salle to just two hits in an opening game gem.
St. Bonaventure pulled ahead early as Johnson singled home Cole Peterson with a base hit through the left side for a 1-0 lead after one.
La Salle evened the score in the fourth. After Schlimm had retired the first nine batters in order, the Explorers picked up back-to-back singles to lead off. A sacrifice bunt moved the runners up and the tying run came home on a fielder's choice.
That would be the only damage done against Schlimm. The right-hander would retire 16 of the final 17 batters to face him, with the only Explorer to reach coming off a Bonnies fielding error.
The Bonnies finally picked up the offense they needed with a pair of scores in the seventh. Taishi Terashima was hit with a pitch to lead off and then stole second, moving to third on a bunt single from Peterson. Terashima came in to score when Tyler Walter punched a hit through the right side for a 2-1 tally. A run-scoring groundout from David Vaccaro completed the scoring.
Schlimm surrendered just the two singles, walking only one while striking out five. He tossed 75 of his 115 pitches for strikes.
GAME TWO – St. Bonaventure 6, La Salle 3 (12) | Box Score (PDF)
Bona entered the 12th inning trailing, 3-2, following an RBI single from Connor Hinchliffe.
Johnson smacked a 1-0 delivery from La Salle closer Tom Fazzini for a walk off grand slam and a doubleheader sweep.
The Bonnies posted two runs on three hits in the first following a sac fly by Johnson and an RBI single through the right side off the bat of Ted Dilts.
That would be the only offense for the hosts until the 12th, however, as Bona was limited to just three more hits over the next 11 innings against Explorers pitching.
Single tallies in the fourth and sixth innings got the visitors equal, and La Salle had several chances to pull ahead. The Explorers would leave men in scoring position in the eighth, ninth and 11th innings against Johnson, however. In the 11th, left fielder Ryan O'Connor made a game-saving sliding catch with men at the corners to end the threat.
La Salle finally broke the 2-2 deadlock in the 12th with a one-out triple by Kevin McGowan and a two-out RBU single from Hinchliffe.
Fazzini (0-4) then took over for Greg Krug who had tossed 2.1 scoreless innings of relief for starter Jordan Meyer who had lasted 8.2 innings of two-run ball. Immediately Fazzini found trouble, first giving up a deep fly ball to center from Tommy LaCongo for the first out. Fazzini then hit Terashima and walked Peterson. A Walter single to right loaded the bases, setting the stage for Johnson who then came through with his second homer of the year.
The win is the first in 12 innings or more for the Bonnies since a 4-2 victory at Charlotte on May 18, 2012.
Reid Van Woert started and went six innings, allowing two runs on six hits while striking out four. T.J. Baker threw one scoreless inning before Johnson (1-0) took over, throwing five innings of one-run ball to earn the win on the mound as well.
Terashima and Walter each had two hits apiece in both games.
Bona hosts Binghamton Tuesday in non-conference action at 3 p.m.