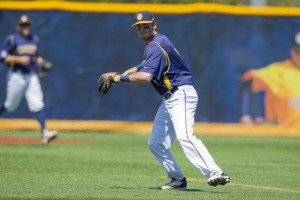 Courtesy of GoGriffs.com
YOUNGSTOWN, Ohio – The Canisius baseball team tallied a run in both the eighth and ninth innings to force extra innings, and eventually defeated Youngstown 4-2 In Youngstown, Ohio on Friday. The Griffs scored a pair of runs in the top of the 10th to earn its ninth straight win. With the victory Canisius is now 24-18, while the Penguins dropped to 9-27.
With the score tied 2-2, a throwing error by Youngstown State and a single by John Conti led to the game-winning runs in the bottom of the 10th to help lift the Blue and Gold to victory.
Youngstown State's Collin Floyd solid start was foiled, as the freshman hurler allowed just four hits and struck out nine Griffs in the no-decision. Kevin Yarbainec allowed all four runs in the loss.
Alex Godzak returned to the rotation, as he worked the first inning and was touched for a run, hielding one hit, a walk and one run in the outing. Nolan Hunt took over and worked an effective six innings, allowing just one hit but did walk four in the no-decision.
Aaron Casper increased his team lead in wins, as he pitched two innings and allowed just one hit and fanned two, to improve to 6-0.
Meanwhile Iannick Remillard continued his record-breaking season, as he notched his 14th save of the season and third of the week as he worked a scoreless inning, notching two strikeouts.
The Blue and Gold's first six batters all recorded hits in the game with Anthony Massicci, Jake Lumley, Ryan Stekl and Tim Kensinger all notched a pair in the contest. Massicci, Kensinger and Conti all had an RBI each.
Youngstown State scored the first run of the game, taking a 1-0 lead after the first inning. The Penguins added a second run in the bottom of the fifth, before the Griffs got to work in the top of the eighth.
Stekl got on in the frame, doubling to right center. Liam Wilson flied out to right field to move Stekl to third, before a single by Kensinger drove Stekl home for the first run for the Blue and Gold.
With the team's back against the wall, the Griffs pushed back. Mark McKenna started the rally with a double, followed by a walk by Joe Preziuso. It didn't take long for Canisius to knot the game up, as Massicci singled to right center to score McKenna, before YSU got out of the jam.
The 10th proved fruitful for Canisius as a throwing error gave Canisius a 3-2 lead before a single by Conti drove in Wilson to make it 4-2. Remillard set down the Penguins in order to close out the game and extend the win streak to nine, a season high.
Canisius continues the seres tomorrow at 2 p.m., with the finale coming on Sunday at noon.