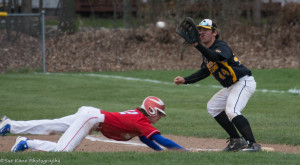 By PAUL GOTHAM
ROCHESTER, N.Y. – In a game needing an extra inning to decide, it was only fitting that an 11-pitch at bat played the centerpiece.
TJ Lucey extended the decisive rally with a two-out base hit as the Fairport Raiders held off Greece Athena, 5-3 in eight innings in Monroe County League action, Thursday.
Lucey fouled off five full-count pitches before sending a single to right field.
"I couldn't get anything I wanted, so I just kept fouling it off," Lucey said. "I finally got the fastball I wanted and just shot it to right."
With Nick Tuturro aboard on a one-out walk, Lucey's hit off Athena reliever, James Sciortino, put runners on the corners.
"He has been nails all year long, just tough," Fairport coach Brian Reed said of Lucey. "He's seeing pitches well. He's recognizing pitches well, early. It was a great at bat. That's a great at bat right there no matter the outcome."
"I always feel like the offensive guy has the advantage there," Athena coach Jason Bunting said. "When a kid's fouling off pitch after pitch. It's like the more you see, the more you have an opportunity. He had a great at bat. James did a great job too."
Chris Rizzolo took advantage and followed with an RBI infield single.
"We never gave up," Reed added. "Guys battled the whole time, and we got a win out of it."
Chad Riorden came on in relief of Matt Buss in the sixth and pitched two and two-thirds innings for the win. The senior right-hander entered the game with the go-ahead run in scoring position. He retired the next two batters to end the threat.
Riorden gave up a run in the seventh to send the game to extras. In the eighth, the right-hander put the leadoff batter aboard on a hit by pitch. One out later, he surrendered a base hit.
In a week in which Fairport squandered a pair of late-inning leads, the Raiders looked destined to repeat the trend until Riorden induced a game-ending 4-6-3 double play.
"You go out there as a pitcher coming in you want to do well for your starting pitcher," Riorden said. "You're just looking to get the first guy out. Once I didn't do that, and they got a rally together, they got their run I was just thinking got to string together some hits for the team. I luckily got to go back out there and finish out the game."
Jake Rugaber paced Fairport early. Rugaber led the third with a double to left center. After Riorden moved the runner with a sacrifice bunt, Rugaber came home on Turturro's suicide squeeze bunt.
Rugaber made it 2-0 in the fifth inning when he plated pinch runner Jeff Pratt with a one-out double again into left center.
Athena cut the lead in half in the bottom of the inning. Sciortino led with a walk and moved to second on a Dom DiStefano base hit through the left side of the infield. Trevor Layne loaded the bases with a bloop single down the right field line, and Justin LoTemple followed with an RBI sacrifice fly.
Mark Bendert knotted the score for Athena in the sixth when his RBI double brought home Jake Kimble.
"They don't quit," Bunting said of his team. "That's why I love them. They don't quit. Can't get on them for that, for sure."
Fairport regained the lead in the top of the seventh. Mike Sabatine led with a double, and one out later Sam Gueli delivered with a single through a drawn infield.
"I was just sitting first pitch fastball like I do all the time," Gueli explained. "I was trying to get something up the middle, and I was able to get it through there. It worked out our way."
Athena senior Mike Putman tied the score in the home half with a two-out infield single bringing home Justin Bunting from third.
"After this week, where teams came back on us, this team came back on us and tied it up in the seventh inning," Reed noted. "We still battled through the whole time. We never gave up. Guys battled the whole time, and we got a win out of it."
Athena starter, Nick Jackson went seven and a third. For the second time in little more than a week the senior right-hander hurled seven innings before watching his team fall in extra innings. Jackson was the starter when Athena lost to Penfield on April 18th.
"He's had two tough-luck outings right there," Bunting commented. "We're throwing him out there against the good teams, and he's not shying away from them. He's our guy. Hopefully, we get better."
Other Results in Section V Baseball:
CHURCHVILLE-CHILI 4 RUSH HENRIETTA 2
Aaron Monroe broke open a 2-2 tie with a two-run single in the bottom of the sixth. Scott Neu pitched a complete game with five strike outs allowing zero earned runs.