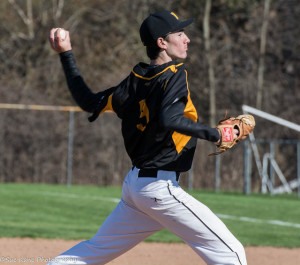 By PAUL GOTHAM
ROCHESTER, N.Y. — Erik Johnson continued his recent dominance, and the McQuaid Jesuit Knights edged the Aquinas Little Irish, 3-0 in non-league action, Wednesday.
Johnson did not allow a runner past second and limited Aquinas to two hits and two walks while striking out seven.
"He continued to do what he's been doing last three weeks," McQuaid coach Tony Fuller said.  "That's another quality start."
Johnson's performance proved timely as McQuaid's offense managed just five hits of their own on the afternoon.
"Our offense was a little sluggish today," Fuller noted. "He picked us up and carried us."
McQuaid got all the runs it needed in the second inning. Billy Kehrig drove the first offering from Aquinas starter, Max Swartz, through the right side of infield, and Gerry DiMarco followed with a two-out RBI double.
"On the first pitch he threw a curve ball that missed, so I was looking dead fastball over the middle," DiMarco explained. "He threw it right over the middle, and I put a good swing on it."
McQuaid, as has been the case for much of the season, used its speed on the base paths to scratch across a pair of insurance runs in the sixth. Sam Young started the stanza with a base hit to left field. After Christian Palawek came on to pinch run, Nick Tomei beat out a sacrifice bunt to put runners on first and second.
AJ Fina squared at the plate, but the McQuaid centerfielder pulled back his bunt allowing Palawek to steal third with the bag vacated. Fina followed with an RBI sacrifice fly.
"It worked out well," Fuller said of the fake bunt. "The guys did a good job executing that."
A pair of Aquinas errors led to McQuaid's third run of the game.
Johnson worked out of a two-on, one-out jam in the sixth.
Swartz led the AQ sixth with a single to right center. One out later, Trey Brown fouled off a pair of two-strike pitches before earning a base on balls.
Johnson ended the threat with a pair of routine fly balls.
"I was trying to get a ground ball, but they got under it," Johnson recalled.  "I just got two fly balls for the outs."
Johnson finished with 10 fly ball outs on the afternoon. The sophomore left-hander has not allowed a run in his last 15 innings of work.
"It's definitely big to beat our rivals especially in a close game," Johnson said.  "In these kind of rivalry games these are the ones you want to win the most, so I put forth as much effort as I could today."
McQuaid's Jonathon Catapano knocked a one-out double in the fourth but was left stranded at third.
Aquinas catcher, John Altpeter connected on a two-out double in the fourth, but Johnson retired the next batter on strikes.
McQuaid improved to 10-3 with the win. The Knights have won seven straight. They will host St. Joseph's Collegiate (VI) on Friday.
Aquinas falls to 5-3. The Little Irish travel to Eastridge on Thursday.
Other Results in Section V Baseball:
VICTOR 5 FAIRPORT 3
Ryan Simmons pitched a complete game allowing only one earned run on seven hits. He struck out two and walked none for his first varsity victory. The senior also supplied the game-winning hit. Victor scored first in their opening time at bat with Riley White driving in Aaron Schlarbaum. Fairport answered with three runs in the bottom of the second. Victor tied the game in the fifth squeezing two runs in. Victor scored the winning run in the top of the seventh when Blake Hildman was hit by a pitch. Schlarbaum bunted for a hit with one out to put runners at first and second, and Simmons delivered the game winning single scoring pinch runner Nick Myer. Schlarbaum was 3-for-4 with one RBI. White was 2-for-3 with two RBI. TJ Lucey and Sam Gueli had two hits apiece for Fairport. Victor is (2-2, 4-7) and Faiport is ( 1-3, 7-5). Victor will host Penfield on Friday at 4:30. Fairport travels to Greece Athena on Thursday.
PITTSFORD MENDON 7 BRIGHTON 1
Sam Cestra earned the win with a complete game 4-hitter, 0 ER and four strike outs. Max Troiani was 4-4 at the plate with three runs scored.
CHURCHVILLE-CHILI 6 SPENCERPORT 3
Colin Coykendall broke a 3-3 tie with a two-out RBI double in the bottom of the fifth. Billy Sanborn picked up the win. He allowed three runs (o earned)  over five innings of work. Sanborn struck out nine. Christian Montanez hit a two-run home run in the first inning.  Tyler Johnson earned the save. He struck out two over two innings of scoreless relief.
PITTSFORD SUTHERLAND 7 CANANDAIGUA 6
Sutherland traveled to Evans Field in Canandaigua for a Division 2 match-up with the Braves and came away with a hard fought 7-6 victory.
The Knights fell behind 4-0 after three complete as the Braves sat down nine straight Knights and used numerous Sutherland miscues to build their lead.   In the fourth inning walks to Will Marsh, Alec Vaules and Michael Ryan and a Sam Kistler hit by pitch plated Sutherland their first run.   An RBI single by Jack Zielinski along with an error allowed two more runs to score and closed the gap to 4-3.
The Braves scored two more in the fifth to make the score 6-3.   Once again the Knights battled back the following inning using a Kistler double and Daniel Green single to put two runners on with two outs.   A Will Groark misplayed flyball scored a run to narrow the score to 6-4.   Layton Cummings then  followed with a long double to right field scoring two runs to tie the game.
It stayed that way until the top of the seventh inning when Marsh walked again and then scored on Michael Ryan's double to the right field gap to make the score 7-6.
In the home half of the seventh, reliever Groark, who threw 2.2 innings allowing two hits with three strikeouts and 0 ER, got the first two outs of the inning before allowing a hit.   Zielinski entered the game and promptly got a line-out to end it for his second save of 2016.
The Knights are now 9-4 and 4-0 in Division 2.