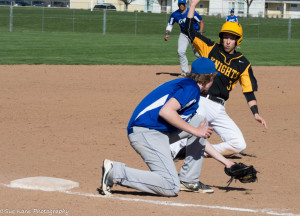 By PAUL GOTHAM
ROCHESTER, N.Y. — Sophomore Erik Johnson hurled a 3-hitter, and Christian Palawek provided a pivotal pinch hit single as McQuaid Jesuit downed Bishop Kearney, 6-0 in non-league action, Wednesday.
Johnson struck out eight and walked one. After allowing a leadoff single to start the game, the sophomore left-hander set down the next 13 batters he faced.
"He's done a great job," McQuaid coach Tony Fuller said.  "He pounds the strike zone and is very efficient. Another good outing from him and we just got to keep him rolling and stay in his groove."
Johnson proved a quick study taking pre-game instruction from pitching coach Dusty Odenbach and adding a new weapon to his arsenal.
"I was just working with Odenbach today on a slider," Johnson explained. "I just learned it. That's what I was throwing today. That's what was dropping the most. Most of my strike outs came on that slider. That was my put-away pitch today."
Johnson has allowed two runs (one earned) over his last 14 and two-thirds innings of work (three appearances). He tossed a scoreless inning in relief against Clarence (Section VI) on Saturday. Last Tuesday, he went 6.2 in a 5-2 win over Livonia.
VIEW MORE SUE KANE PHOTOS HERE.
Palawek delivered a two-out, two-RBI pinch hit single in a three-run fourth as the Knights took a commanding lead.
"He stepped up," Fuller said. "That was a big base hit by him. I'm happy for him that he executed that."
With runners on second and third, Palawek drove a fast ball on the outer third of the plate up the middle to score Tyler Griggs and Gerry Dimarco.
"Coach told me before the game that if runners got on, that I would probably be pinch-hitting," Palawek explained. "I was just going up there knowing that there are two outs just trying to get a piece of something and get it through the infield and score a run or two."
Palawek's opportunity came as the result of effort during a recent practice.
"We intra-squaded on Monday," Fuller noted. "For us two games a week isn't enough. Having a big roster is nice. We lace 'em up and we go. We compete against each other on Monday. "C.P." went 3-3 with six stolen bases on Monday. You got to reward him when he comes out and plays like that in an intra-squad game. We talked about that he's got to be ready to go early in the game."
Danny Maxwell led the inning with a walk. After a stolen base and an errant pick off attempt at second, Griggs delivered with an RBI single. Dimarco also walked and the two runners advanced 90 feet on a wild pitch setting the table for Palawek.
Dimarco singled home Jonathon Catapano as McQuaid added a pair of insurance runs in the sixth.
Catapano collected an RBI in the first when his ground ball to the right side of the infield scored Nick Tomei.
The Knights stole nine bases.
McQuaid improved to 9-3 with the win. The Knights play at Victor on Saturday. An 11 a.m. first pitch is scheduled.
More results from Wednesday's Section V Baseball action. 
Pittsford Sutherland 14 Honeoye Falls-Lima 5
Behind the strong pitching of Jack Zielinski and a potent offensive attack the Sutherland Knights defeated the HF-L Cougars 14 to 5 at Sargent Field in Pittsford.   The junior lefthander threw a complete game 5-hitter with eight strikeouts while surrendering only one earned run.    At one point Zielinski retired 12 straight Cougars hitters in the victory.
Sutherland pounded out 10 hits including 5 extra base hits in the win.  Senior designated hitter Alec Vaules went 2 for 4 with a 2-run home run in the second inning and a run scoring triple in the sixth. Michael Ryan, Nate Richardson and Zielinski all had multi-hit games with Ryan's hits being doubles. Richardson also recorded five stolen bases and three runs scored.
Rounding out the offense was Layton Cummings who had three RBI including a two-run double.
Sutherland is now 7-4 and hosts rival Mendon on Friday at 4:30 pm at Sargent Field. ​
Victor 4 Webster Thomas 3
Nate Hampson delivered a walk-off hit for Victor. The sophomore also picked up his second win of the season in relief.
Hilton 5 Churchville-Chili 4
Cadets erased a two-run deficit in the sixth.