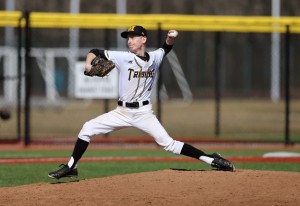 By PAUL GOTHAM
ROCHESTER, N.Y. — Connor Hurst (John Fraser) earned his first career win, and the Monroe Community College Tribunes swept Finger Lakes Community College (16-6/3-2) in NJCAA action at Tribune Field, Tuesday.
Hurst allowed two runs (one earned) on four hits over six innings of work. The southpaw threw first-pitch strikes to 17 of 23 batters and struck out four without issuing a base on balls.
Monroe coach Dave Brust emphasized his starter's ability to attack the strike zone.
"That's his strength right there, controlling the tempo, controlling the running game."
After allowing a one-out triple in the first, Hurst settled in and retired eight of the next nine hitters he faced and did not allow another hit until surrendering a two-out double in the fourth.
"Got ahead with strike one which is what coach preaches," the 5-11 freshman said. "Just kept throwing strikes and pitched to contact. I was able to use the change up and curve ball backwards throwing them in fast ball counts to keep them off balance."
The start was Hurst's third of the season. His longest outing prior to Tuesday was three innings. He had allowed 19 runs (17 earned) in six previous appearances.
"It was great to see him blossom," Brust added. "It's been a bumpy road for him as a freshman especially in Arizona. Certainly nice to see him have success and show what he's capable of doing."
Hurst got it done with the glove as well.
With a runner on second and clinging to a 2-1 lead in the fourth, Tribune third baseman Nick Ficarella (Churchville-Chili) ranged to his left to field a ground ball and throw across the diamond. Hurst saw the runner break from second and alertly covered the bag for the unconventional 5-3-1 double play.
"He made a great play covering third, picking the ball and making a tag," Brust stated.
"I noticed "Fick" was off the bag a little further than he wanted to be," Hurst explained. "I was just trying to cover three as best I could. Kinda picked it up and slapped the tag on him and got him. That was a big play."
Lucas Godlewski (Little Falls) came out of the bullpen with a runner on second and no outs in the seventh. The 6-4 sophomore fanned the first batter he faced. After an error put runners on the corners, Godlewski ended the threat getting a fly ball and a ground ball to the right side of the infield.
"Godlewski had a good close out," Brust stated. "It's never going to be easy. At the college level they're not big league closers. They got to come in and battle their own nerves and just pound the strike zone. I thought he did a good job with that."
"It was a little nerve-wracking," Godlewski said. "I wanted to get ahead and get strike one like coach says. Get a ground ball let my fielders back me up. That's the plan all the time. Get ahead, get a ground ball and see what happens."
Matt Brooks (Auburn) finished the game 2-for-3 with a run scored and an RBI. The sophomore outfielder led the first with a single up the middle, stole one of his two bases in the game and eventually scored when Johnny Ricotta (Greece Athena) worked a bases loaded walk.
Brooks made it a 2-1 game in the second when he plated Ryan Brown (Brighton) with a ground-rule double to right center off FLCC starter, Noah Gorton.
Brown singled and stole second to start the fourth. The Tribune second baseman scored the eventual winning run when Ryan Boutelle singled back through the box.
Tyler Riehl (Resurrect Catholic) struck out five over five and two-thirds innings of work in the opener for his second win in as many outings. The freshman left-hander has thrown at least five innings in both of his last two outings.
Riehl allowed six runs (three earned).
"He worked through a rough patch and stayed with it," Brust commented. "It was impressive on his part to get it together and get it back on the track."
Ricotta sparked a seven-run fourth when he turned on an inside fastball and drilled his first home run of the season.
"I just wanted to go up there with a good approach," Ricotta said. "Tried not to do too much. Got a good pitch and jumped on it."
The leadoff solo shot to left field was an opportunity to make amends for a previous error.
With two outs in third, Riehl got a routine pop-up with his sixth pitch of the inning, but the usually reliable Ricotta let it fall to the turf. The next three batters reached including back-to-back RBI doubles from James Mitchell and Cole Tracy giving FLCC a 3-1 lead.
"I was trying to redeem myself for that error because they scored three runs after that," Ricotta said. "It was a good momentum shift for us."
Anthony Santoro (Henninger) followed with a double off the fence in left center. Ficarella singled up the middle, and Luke Brust (Honeoye Falls-Lima) tripled to left center as the first four batters of the inning reached base.
It wasn't until Isaiah Merced made a diving catch in centerfield on a sinking line drive off Brown's bat that the Lakers were able to get an out.
"The offense was certainly outstanding in game one," Brust noted. "In game two they threw a guy who has slippery stuff. Sometimes bats don't show up, so it was good to see our pitching carry the load."
Brooks, Brust, Ricotta and Santoro all collected two hits apiece in game one.
Ricotta drove in three runs. Boutelle and Brust had two RBI apiece in the opener.
Brooks finished the day 4-6 including a double, home run, five RBI, three runs scored and two walks.
Monroe improved to 17-11. The Tribunes have won six straight and 12 of 13.
FLCC fell to 22-11.
The same two teams meet Thursday at FLCC. A 2 p.m. first pitch is scheduled.