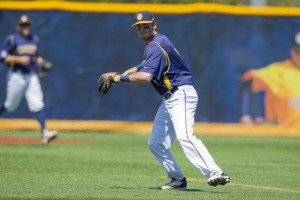 Courtesy of GoGriffs.com
LAWRENCEVILLE, N.J. – The Canisius College baseball team concluded its series with Rider with a convincing 15-5 win at Sonny Pittaro Field on Sunday afternoon. The Griffs used a run-explosion in the top of the sixth to spur Canisius to the win. With the victory the Blue and Gold improved to 17-18 and 8-4 in league play, while Rider dropped to 11-22 and 3-6 in MAAC action.
Canisius' offense, which had been held in check for the first two games of the series, came out in force on Sunday, rapping out 20 hits in total with six players tallying two-or-more hits.
Ryan Stekl and Anthony Massicci did most of the damage as the duo both recorded three hits and two RBI to lead the Griff offense. Jake Lumley also tallied a trio of hits, while Tim Kensinger, Jack Massa and Mark McKenna all tallied two hits in the contest.
Zachary Sloan got the start and worked a near-flawless three innings, recording one hit and one walk, along with four strikeouts. Aaron Casper took over in the bottom of the fourth, and also worked a trio of frames, limiting Rider to four hits, one earned run and one strikeout, as he improved to 4-0 this season.
Andrew Kneussle and Alvin Vega also saw action working a combined three innings, and allowing two hits and four runs (one earned).
The sixth inning proved to be the knockout blow in the contest, as the squad used a six run, five hit rally to put the game out of reach.
The rally was started with a two RBI single to right center by Jack Massa, driving in Lumley and Kensinger. Next John Conti singled to right field to bring in Massicci for another run. The Griffs drove in two more runs thanks to McKenna who rapped out a single to left center to bring in Massa and Conti. Kensinger capped the scoring with an RBI single.
Canisius now gets ready for a quartet of games beginning with a midweek game against Buffalo, followed by a trio of home games against Iona at the Demske Sports Complex.