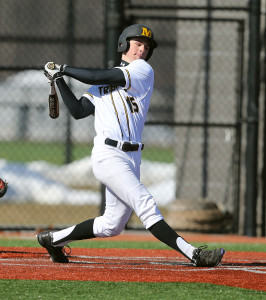 By PAUL GOTHAM
ROCHESTER, N.Y. — On a day when temperatures hovered in the thirties, the Monroe Community College Tribune offense warmed to the conditions for their second consecutive doubleheader sweep.
Tribune bats crushed 24 hits en route to taking two (10-5/10-0) over the Utica Pioneers JV in non-league action Sunday at Tribune Field.
"We have nine hitters in the lineup," Monroe coach Dave Brust said. "Some guys are hot. Some guys are just swinging it okay, but they're all pretty capable of doing something pretty explosive at any time."
Matt Brooks (Auburn) led the way with five hits on the afternoon. The sophomore outfielder capped a five-run third inning in game two of the doubleheader when he pulled a first pitch curve ball into the right center gap.
"Just staying in the process and keeping my approach," Brooks said. "I kept my hands back and just drove it. Ball just looked a little bigger today. I was seeing the ball well. Everything felt right today."
On the play, Brooks plated Ryan Bothwell (Napanee Secondary) and Mike Pringle (Pittsford Sutherland) with his third triple of the day. This one a two-out line drive.
"He's got that gap pop," Brust said of Brooks. "Teams that come in and don't pay attention to the size of our outfield. A ball in the gap is going to be a triple because he's got footspeed too. Good day for him."
Monroe sent eight to the plate in the frame and never looked back. Johnny Ricotta (Greece Athena) reached on an error, advanced to second and scored on a Nick Ficarella (Churchville-Chili) infield hit. Collin Stack (Maple Grove) followed with a single, and Luke Brust (Honeoye Falls-Lima) brought a run home with a sacrifice fly. Bothwell and Pringle set the table for Brooks with back-to-back RBI doubles.
"They're pitchers were very solid, but we swung it today," Brust said of Utica. "They threw strikes. They had decent velocity. They had decent secondary pitches… We worked it out."
Alex Bellardini (Elmira Free Academy) started and tossed three shutout innings for his first win of the season. The right-hander faced 14 batters and struck out two.
Pat Connor (Geneva) came out of the bullpen and tossed two shutout innings.. The left-hander fanned two.
Monroe rallied from a two down for the game one win. Anthony Santoro (Henninger), who has been swinging a hot bat of late, got it done on the basepaths scoring the eventual winning run when he came home from second on a routine ground out.
With one out and two runs in, Stack grounded to short. Santoro took advantage of the pitcher's tendencies to get to third and never stopped when base coach Cory Brownsten waved him home.
"He was just giving one look to the second baseman," Santoro explained when asked how he was able to get a good jump on the pitch. "Most of the time. You pick up on things like that. It makes it a lot easier on the base paths."
Luke Brust followed with a two-out double and scored on a Ryan Brown (Brighton) base hit as MCC turned a 5-3 deficit into 7-5 advantage.
The black and gold put the game out of reach one inning later. Stack capped a three-run sixth with an RBI triple. The sophomore third baseman collected three hits in four at bats in game one and finished with four hits on the day.
"It's nice having "Toro" in front of me especially lately since he's hitting the ball like crazy," said Stack who hit 8-14 for the week. "Tried to stay inside and drove it to left center. Ended up rolling all the way to the wall and just kept running."
Santoro went 3-4 with four runs and an RBI in game one. He reached on an error in the fifth to extend his streak 16 plate appearances reaching base. The freshman catcher started the second and third with doubles. He is hitting .548 with an OBP of .659 to lead the Tribs. Santoro's is slugging 1.032.
Colin Johnston (Greece Athena) improved to 3-2 with the win in relief. The right-hander struck out four and walked none in 2.1 innings of work. He allowed two baserunners including one hit.
Luke Brust collected three hits, four stolen bases, two RBI and two runs scored on the day.
Connor Lewis (St. Marguerite d'Youville) had three hits, three runs scored, two stolen bases and an RBI.
Monroe improved to 10-10 on the season with its fifth straight win.
"Nothing's better than W's," Brooks said. "Keep rolling off these two. Back to .500 where we want to be."
Monroe hosts Ithaca College JV on Thursday. A 1 p.m. first pitch is scheduled for game one of a non-league doubleheader.