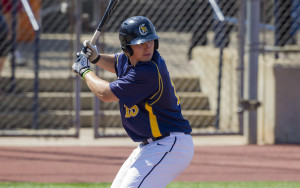 Courtesy of GoGriffs.com
WAPPINGERS FALLS, N.Y. – The Canisius baseball team was bested by Manhattan on Sunday, thanks to a ninth-inning walk-off single, as the Griffs fell 4-3 to the Jaspers. With the loss Canisius dropped to 15-16 overall and 6-3 in the conference, while Manhattan improved to 8-19 overall and 2-4 in MAAC play.
With runners at the corners for the Jaspers, and two outs, Christian Santisetban recorded the knockout blow, singling up the middle to drive in the game-winning run.
Mike Elwood became the pitcher of record, as he came on for Tyler Smith in the top of the ninth, and recorded the first two outs of the frame before yielding a walk, and two singles to drop to 1-4.
Nolan Hunt got the start and worked 5.1 innings, and yielded four hits and two runs in the no-decision.
Andrew Sipowicz struggled in his 0.1 innings of work as he allowed two hits, one of which was a three-run homerun, which knotted the game up.
Michael Ginther relieved Sipowicz and combined with Smith to work the next 2.1 innings, and allowed just two hits.
Offensively the Griffs managed seven hits, with Ryan Stekl leading the team with a pair in the contest. Stekl finished the game 2-of-4 from the dish. Anthony Massicci, Adam Tricarico, andMark McKenna all recorded RBI in the contest.
Canisius got the scoring started in the top of the fifth, as McKenna belted a single to right field, which drove in Tricarico for the opening run of the contest.
Canisius added to its lead in the sixth inning, as the Blue and Gold notched back-to-back knocks to get runners aboard. Stekl started the string with a single and Liam Wilson rapped out a double to left field to put runners at second and third.
Massicci grounded out to shortstop to drive in Stekl, before a Tricarico single through the right side brought Wilson home. The rally was cut short on the same play as Tricarico tried to stretch the single into a double, as he was thrown out to end he frame.
Manhttan changed the course of the game in the sixth, as the Jaspers put two men aboard following a inning-opening ground out, to set the table for Fabian Pena, who drilled a long ball to left field to tie the contest.
The Jaspers went on to notch the game-winning RBI in the bottom of the ninth, as the squad bested Canisius 4-3.
Canisius now heads home for a mid-week game against crosstown rival, Buffalo at the Demske Sports Complex on Tuesday. Gametime is set for 4 p.m. Following the midweek game, the Griffs will head on the road to Lawrenceville, N.J. for a three-game set against the Rider Broncs beginning on Saturday.
Other Games in the MAAC:
Game one Rider 4 Sacred Heart 2
Game two Sacred Heart 7 Rider 4
Game one Marist 3 Niagara 2
Game two Niagara 7 Marist 3
Game one Fairfield 2 Iona 1
Game two Fairfield 7 Iona 1
Game one Monmouth 4 Saint Peter's 1
Game two Saint Peter's 8 Monmouth 7
Siena 8 Quinnipiac 7