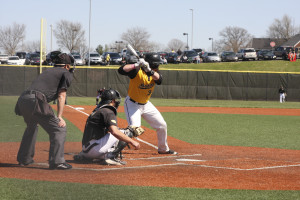 Courtesy of NKUNorse.com
INDIANAPOLIS – After going 10-for-20 with eight RBI and three home runs last week, senior catcher Logan Spurlin of the Northern Kentucky University baseball team was named Horizon League Batter of the Week, the League office announced Monday.
The Evanston, Illinois, native posted a 1.050 slugging percentage and .545 on-base percentage across NKU's five games.
His week began with a 2-for-4 performance with a home run and three RBI to lead NKU over No. 12 Kentucky, 5-4.
Spurlin registered another three-RBI showing with a home run the next day in an 8-3 win against Butler.
The senior catcher then helped lead the Norse to their first Horizon League victory on Saturday at Wright State when he issued a 3-for-5 performance at the plate. In the three-game set against the Raiders, Spurlin went 6-for-13 with two RBI and a home run.
Spurlin is currently riding a 12-game hit streak and owns team-high marks in batting average (.360), RBI (25), slugging percentage (.628), on-base percentage (.444) and home runs (six). He has hit safely in 20 of his 25 games this season and has nine mutli-hit games and seven multi-RBI showings.
His six home runs and .444 on-base percentage are both League-best marks. Spurlin is second in the Horizon League in slugging percentage, third in RBI and fourth in batting average.
The Norse (10-18, 1-8 Horizon League) return to action on Tuesday, April 5 when they host Miami (Ohio) at 3 p.m. The Norse then travel to Oxford, Ohio to take on the RedHawks at 6 p.m. on Wednesday.