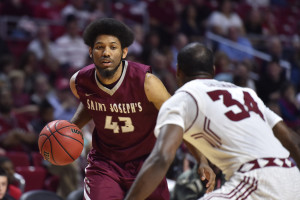 Courtesy of SJUHawks.com
BROOKLYN, N.Y. – DeAndre' Bembry scored 21 points to lead five players in double figures as fourth-seeded Saint Joseph's came back from 16 points down to defeat fifth-seeded George Washington, 86-80, in the quarterfinals of the 2016 Atlantic 10 Championship at the Barclays Center. It was the 400th win of Phil Martelli's 21-year career at Saint Joseph's.
Aaron Brown scored 19 points, Isaiah Miles had 15 and James Demery had 15 points and eight rebounds off the bench as the Hawks staged their biggest comeback of the season and improved to 25-7 on the year and snapped a two-game losing streak. Freshman Lamarr Kimble also added 11 points on 4-for-5 shooting.
Trailing 47-31 with a minute to go in the first half, and then 49-35 at the break, Brown got the Hawks going in the second half, hitting his first three shots. After a pair of free throws from Miles, the Hawks had closed to 52-43. A drive by Newkirk and a three from Bembry capped a 13-2 run to pull SJU within 52-48.
GW (23-10) used a 6-2 run to go back up by 58-50, but that would be their biggest lead the rest of the way
Saint Joseph's continued to chip away and although trailed by 61-54, Kimble connected on a three-pointer and Demery followed with a three-point play to pull SJU to within 61-60. The Hawks were within one point a few more times but finally took the lead, 70-69, on a three by Demery, marking their first lead since the opening minutes of the game. GW grabbed back the lead twice, but the Hawks scored nine straight points, with four from Bembry and three from Brown, to open up an 81-73 lead with 1:53 to play. SJU sealed the win and the trip to the semifinals as Demery connected on another three-point play with 1:30 remaining.
"Just a great win. Their eyes were up at the halftime. They were quiet. They were nervous. But right in the beginning of the second half, we got three stops. We didn't score, so you get a little bit concerned, and then we just chopped it up and said, each play, if we can get this play, then we can get the next play, and that's really what we did," said Martelli, who is now 400-273 in his career at SJU.
"The zone in the last three minutes, all credit goes to (assistant coach) Mark Bass. He was on me about the idea of playing what we call makes and misses, and I just was watching, and we were like in that stretch of time where we were down one, and I thought if they hit a three, it's four, and I might walk home if that would be what would cost us the game."
"(Coming out of halftime) Well, I hoped they'd miss a shot. They were making everything first half. I felt like they was 11 for 16 on threes, so we kept telling each other, there are missed shots here and there, but Mark Bass made a different plan on the defensive end on Larsen, and we've got to give credit to Isaiah," said A-10 Player of the Year Bembry, who recorded the 24th 20-plus point game of his career.
"He's only 6'7″, Larsen is about 260 probably, so he played good defense on him the second half, and that's what happened. Then we ran with the momentum after that."
GW jumped out to the first half lead with a barrage of threes. The Colonials hit 7 of their first nine to run up a 30-19 lead, led by 3-for-3 shooting by Jorgensen as he tied his season-high with nine points.
The Colonials finished the half hitting 11-of-16 from three and even though the Hawks shot 58 percent, trailed 49-35 at intermission.
The second half was a different story as GW went just 4-for-15 from three-point range and hit 32.4 percent from the field overall. The Hawks were 4-of-8 from three and connected on 56.7 percent of their shots.
By scoring double figures for the 32nd time this year, Bembry and Miles have tied the school record for double-figure games in a season, which was set by Jameer Nelson in 2003-04.
Saint Joseph's defeated #15/13 Dayton, 79-70, in the lone meeting of the teams this season on Feb. 17 at Hagan Arena.
The Hawks are making their third appearance in the A-10 semifinals in the last six years. SJU won the A-10 title in 2014.