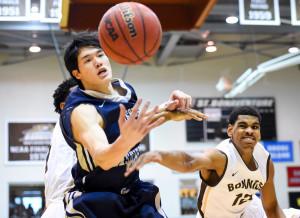 By PAUL GOTHAM
BROOKLYN — Yuta Watanabe scored a game-high 19, and Tyler Cavanaugh added 13 points as the George Washington Colonials (23-9) defeated Saint Louis (11-21) in second round action of the Atlantic 10 Championship at the Barclays Center, Thursday.
Watanabe connected twice behind the arc in the second half including a catch-and shoot trey from the top of the arc. His steal and dunk at the 11:44 mark gave the Colonials their largest lead of the night at 50-37.
"Even though the last two games I wasn't shooting well, people talked to me (to) keep shooting," the sophomore said. "Today I hit like first three shots. I played with that mentality."
The Colonials held off a Billiken squad which made it a single-possession game early in the second half and scored six straight to come within five later in the half.
"They do a good job of really spreading the floor, running the highball screen with four shooters," Cavanaugh said. "They knocked down shots to their credit."
Jermaine Bishop led a Billiken attack which connected on 10-of-18 shots from behind the arc. The freshman scored 15 on 6-of-11 shooting including 3-of-5 from long range. Davell Roby hit 2-of-4 and finished with 11 points.
"I thought we did a lot of good things, but give St. Louis credit," George Washington coach Mike Lonergan said. "They shot the heck out of the ball last night and again today. Kept them in the game."
GW converted 17 Saint Louis turnovers into a 21-9 advantage in points off turnovers.
"We got deflections and we were running," Cavanaugh said. "That's when we're at our best."
Patricio Garino and Kevin Larsen scored 10 points apiece for GW.
The Colonials converted 16 of 22 free throws. Saint Louis finished five of six from the charity stripe.
Reggie Agbeko scored 12 and shared the game-high lead of eight rebounds with Cavanaugh.
George Washington will take on No. 4 seed Saint Joseph's in Friday's quarter-final. A 2:30 p.m. tip off is scheduled.
Saint Louis announced after the game that Jim Crews will be relieved of his head coaching duties.