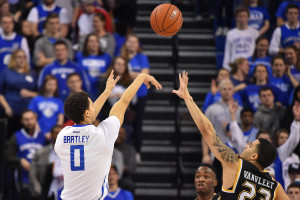 By PAUL GOTHAM
BROOKLYN — For a few fleeting moments it looked as if the Saint Louis Billikens would let another slip away. A nine-point halftime lead evaporated in less than eight minutes, and SLU's opponent, the George Mason Patriots, had momentum.
Then Marcus Bartley and Davell Roby scored the next 15, and Saint Louis went on to an 83-78 victory over George Mason in the opening round of the 2016 Atlantic 10 Championship.
By the time Bartley and Roby finished Saint Louis had an 11-point advantage and never looked back.
"We're really excited," Saint Louis head coach Jim Crews said. "Kids really played well. I thought we really had a good rhythm to ourselves offensively. We were really balling strong, only turned it over five times. That was tremendous."
Bartley finished with a career-high seven 3-pointers and a game-high 24 points.
"Any time I make my first shot, I feel like I'm on," Bartley explained. "That's just the shooter in me. Once one goes down, I feel like I can get off at any time, so just having confidence in that."
Bartley and Roby combined to hit 10-of-12 from long range in the win.
"They really played off each other in terms of taking the ball to the bucket, throwing it in the post, driving it at times and then playing it off with the threes," Crews commented.
With the score knotted at 46, Roby connected on a jumper. Two possessions later, Bartley hit his first triple of the second half. Roby connected from long range on the next trip down the floor. The sophomore guard followed with a runner. Bartley hit another trey, and Roby made it a 60-51 game with a steal and layup.
"You've got to give a lot of credit to Bartley," George Mason coach Dave Paulsen said.  "Bartley, Roby, guys not at the top of the scouting report did a great job for them and stepped up in a big way. Got to give a lot of credit to Saint Louis."
Saint Louis won despite being outrebounded 53-30. Shevon Thompson, the A-10's leading rebounder pulled down 15 boards on the night.
"He's a mountain of a man," Crews said of Thompson. "Really long arms, good touch, but he rebounds it and gives space."
Roby finished with 18 points on 6-of-8 shooting.
Bartley and Roby came in averaging 3.1 points a game and and 5.7 respectively.
Bartley, in particular, has been slowed by injuries.
"We haven't talked about this because our kids don't, but it's the end of the year, so I'm talking about it," Crews commented. "Marcus has been hurt for a year with a bad foot, and on top of that he's had a turf toe, which is very painful, and a lot of people don't even play with turf toe much less a bad foot. He never complained, stayed with it, so I'm just tickled to death with that."
Ash Yacoubou added 16 points for the Bills.
Marquise Moore led five Patriots in double figures with 17. Jaire Grayer added 14. Marko Gujanicic had 13 with Otis Livingston scoring 12 and Thompson getting 10.
Saint Louis improved to 11-20 with the win. George Mason closes the season 11-21.
Saint Louis will face No. 5 George Washington on Thursday. A 1:30 p.m. tip off is scheduled.