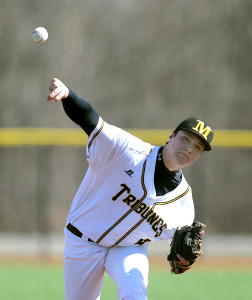 By PAUL GOTHAM
ROCHESTER, N.Y. — Zach Vennaro (New Haverford, N.Y.) and Luke Tomczyk (Chili, N.Y.) combined on a four-hitter as the Monroe Community College Tribunes opened their season with an 8-1 victory over Erie Community College in game one of a non-conference doubleheader at Tribunes Field, Tuesday afternoon.
Vennaro struck out seven and walked none to get the win in the opener.
"I definitely did feel comfortable for the first game outside," the 6-5 right-hander said. "It was good to finally get outside.
After allowing a triple to start the game, Vennaro settled down and retired the next seven he faced and 10 of 11.
"Spotting up the fast ball was working," the sophomore hurler said. "The change up was working really nice."
Tomczyk came on to start the sixth and tossed two shutout innings for the save. He struck out five and walked one without allowing a hit.
"Those guys I thought did what they're trained to do – throw strikes, pitch ahead," Monroe head coach Dave Brust said. "They were effective."
Monroe got all the offense it needed in the middle innings.
Braden Passmore (Henrietta, N.Y.) led the third with an opposite field solo shot to tie the score at one.
Collin Stack (Jamestown, N.Y.) worked a one-out walk in the fourth. After a stolen base and wild pitch, Stack came home on Alex Saville's (Sherrill, N.Y.) two-out RBI base hit.
"This team to be successful has to do a little bit of everything together," Brust said. "For the pitchers to do well they need a little bit of run support. They need the guys behind them to make all the routine plays which they did in game one. To pitch with a lead helps make the job a little easier."
Monroe added two more in the fifth.
Luke Brust (Honeoye Falls, N.Y.) was the headlight with a single to left. Matt Brooks (Auburn, N.Y.) moved the runner with a sacrifice bunt. Ryan Bothwell (Napanee, ON) put runners on the corners when he reached on an error. Stack delivered with a single.
"I got behind in the count and actually missed the bunt sign," Stack said. "I had two strikes on me, choked up on the barrel and just drove the ball. It was a hanging slider right over the plate and just drove it."
The Monroe left fielder finished the game 2-3 with two RBI, two runs scored and two stolen bases. He was part of Monroe's bottom third which combined to go 5-10 with five RBI and three runs scored. Along with Passmore, who went 2-3, Alex Bellardini (Elmira, N.Y.) collected one base rap and drove in two.
"What was nice was that the guys in the top half are on base for them," Brust noted. "We could shuffle our lineup about 20 different ways. The reality is it's just getting guys in the right spots who are hot. But everybody got on base."
Johnny Ricotta (Rochester, N.Y.) doubled home a run in the sixth. Stack singled home another, and Bellardini made it 8-1 with a triple to right center.
"When everybody gets on base, the field gets bigger for the offense," Brust explained. "Balls start to find holes. But we're not that type of offense that if we don't have guys getting on we're not going to drill solo shots. We're not going to really scare them without guys on base."
Monroe took advantage of Erie's generosity to jump to an early lead in the second game. Saville was hit by a pitch to lead the first and later scored on an error. Two walks and another hit by pitch as well as another Stack single made it a 3-1 game in the the second. The Tribs made it a 4-2 game in the fourth when Anthony Santoro (Syracuse, N.Y.) singled and eventually scored on a double steal.
But MCC could not hold on.
Walker Green highlighted a three-run fifth with an RBI triple. The Kats third baseman later stole home for a 5-4 edge.
Jedion Cras plated a run in the sixth as ECC added a pair of insurance runs en route to a 7-4 victory for the split.
Saville finished game one 2-3 with a walk and an RBI.
Ricotta collected two hits in four trips as did Luke Brust.
Brooks finished 1-2 with a walk, run scored and two stolen bases.
Monroe hosts a doubleheader with Genesee CC on Thursday. First pitch is slated for 1 p.m.