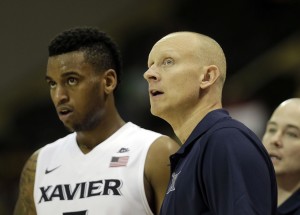 Courtesy of GoXavier.com
CINCINNATI — Xavier University sophomore guard Trevon Bluiett has been named as a USA TODAY Sports Third Team All-American. Bluiett, the leading scorer for the No. 5 team in the nation, was named to the BIG EAST Conference First Team on Sunday.
Bluiett is the first Musketeer to earn a major All-America honor since Tu Holloway for the 2011-12 season and the first XU sophomore to earn a major All-America honor since redshirt sophomore Jordan Crawford earned Sporting News Third Team honors at the end of the 2009-10 season.
Bluiett leads Xavier in scoring at 15.2 ppg., which ranks ninth in the BIG EAST Conference, and in 3-point field goals made at 2.2 per game, which is fifth in the BIG EAST. In addition, Bluiett also leads the team in double-figure scoring games (28), times as team's leading scorer (15) and double-doubles (five). Bluiett is third on the team in rebounding at 6.4 rpg., ranking 13th in the BIG EAST, and free-throw percentage at 77.8 percent, which is tied for 14th in the BIG EAST.
Earlier this season Bluiett was named on the 35-member Naismith Trophy Men's College Player of the Year Mid-Season Watch List. In addition, the Naismith Memorial Basketball Hall of Fame selected Bluiett among the 10 watch list finalists for the 2016 Julius Erving Small Forward of the Year Award.