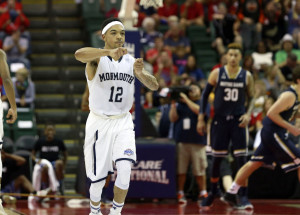 Courtesy of MAACSports.com
ALBANY, NY – Monmouth University, the 2015-16 MAAC Basketball Regular Season Champion and top seed in the MAAC Men's Basketball Championship, defeated fifth seeded Fairfield University, 76-63 at the Times Union Center.
Justin Robinson, the 2016 MAAC Men's Basketball Player of the Year had 15 points, nine rebounds and dished out four assists in the Hawks win. The 2016 MAAC Men's Basketball Rookie of the Year Micah Seaborn had 15 points on six-for-11 shooting. As a team, Monmouth University shot 44% from the field. The Hawks outscored Fairfield University 32-24 in points from the paint. In his return from a hand injury, Deon Jones scored nine points and added seven rebounds.
Jerome Segura had 14 points for Fairfield University and Matija Milin had 16 points for the Stags in the loss, adding nine rebounds to his stat line. Fairfield University defeated Saint Peter's University last night in the quarterfinals for the chance to get to the championship game today against Monmouth University. Marcus Gilbert and Tyler Nelson each chipped in with 10 points.
The 2016 MAAC Men's Championship title between Monmouth University and the winner of Iona College/Siena College game will take place tomorrow on Monday, March 7 at 7:00 p.m. and will air live on ESPN with the winner earning the leagues automatic bid to the NCAA Championship.