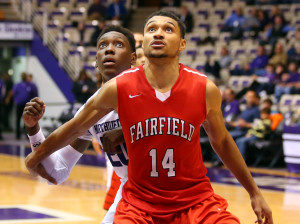 Courtesy of MAACSports.com
ALBANY, NY – The fourth and quarterfinal matchup of the 2016 MAAC Men's Basketball Championship saw fifth seeded, Fairfield University defeat fourth seeded Saint Peter's University, 64-55, at the Times Union Center.
All-MAAC First Team Selection Marcus Gilbert was the Pepsi Player of the Game in this win for the Stags. Gilbert had 20 points on six-for-12 shooting. He connected on five three-pointers, with his most important three coming with 31 seconds left to give the Stags a 61-55 lead and stop the Peacocks second half surge.
Saint Peter's University came on strong in the second half and battled all the way until Gilbert's three stopped their second half efforts. Quadir Welton had a double-double with 16 points and 10 rebounds in the defeat.
Fairfield University now moves onto the MAAC Men's Basketball Championship semifinal to take on top seeded Monmouth University, which takes place on Sunday, March 6 at 4:30 p.m. on ESPN3.
The 2016 MAAC Men's Championship title game will take place on Monday, March 7 at 7:00 p.m. and will air live onESPN with the winner earning the leagues automatic bid to the NCAA Championship.