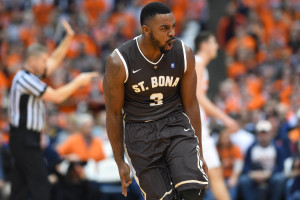 Recaps from four Atlantic 10 men's basketball games Wednesday night.
St. Bonaventure 98 Saint Joseph's 90
Posley's jaw-dropping, eye-opening, hyperbole-deserving 47-point performance Wednesday night proved the center piece in St. Bonaventure's 98-90 victory over Saint Jospeh's in Atlantic 10 action at the Blue Cross Arena.
Posley connected on 15-of-19 shots from the floor including 6-of-7 from behind (some way behind) the 3-point arc to best Hield's 46-point outing that stood as the season's highest in Division I.
"Crazy to think I was in my townhouse watching Buddy Hield go off on Kansas is just pretty cool," Posley said. "To be in this position right now I'm just blessed."
Hield hit 13-of-23 (8-of-15 from long range) in Oklahoma's double overtime loss at then No. 1 Kansas on January 4th.
Posley, who received a ball in pre-game ceremony for scoring 1,000 points in his Bona career, accomplished his feat against a Saint Joseph's defense holding opposing teams to 29.5 percent (fifth in the nation) from behind the arc. READ MORE.

Video courtesy of St. Bonaventure Athletics.
VCU 70 Davidson 60
Melvin Johnson and Korey Billbury combined for 25 points in their final home game and Mo Alie-Cox added 18 points and nine rebounds as VCU set up a showdown for the Atlantic 10 regular season title with a Senior Day win over Davidson Wednesday. The first-place Rams can win the A-10 title outright Saturday with a win at Dayton. READ MORE.
Video

Video courtesy of Atlantic 10 Athletics.
La Salle 76 Saint Louis 68
PHILADELPHIA – Junior Cleon Roberts scored a game-high 23 points to lead La Salle to a 76-68 victory over Saint Louis on Wednesday night at Tom Gola Arena. Seniors Rohan Brown and O.J. Lewis were recognized in a pre-game ceremony. READ MORE.

Video courtesy of La Salle Athletics.
Fordham 78 Duquesne 69
Pittsburgh, Pa. – Pittsburgh is known as the Steel City. But tonight it was the Steal City as Fordham and Duquesne combined for 16 steals (eight for each team) but it was the Rams who took better advantage of the turnovers, scoring 25 points off the Dukes miscues, en route to a 78-69 Atlantic 10 win in the A.J. Palumbo Center. READ MORE.