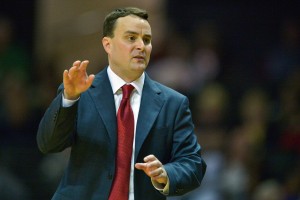 By PAUL GOTHAM
Conference play opens this weekend with a full slate of games. Mid-week contests bring final preparations before Atlantic 10 teams start their march to Brooklyn. Here's the breakdown.
Tuesday
Duquesne (10-2) at Georgia Tech (9-3) 7 p.m.
The Dukes are off to their best start since 1979-80 due in no small part to an up-tempo offense which pours in nearly 83 points per game. Derrick Colter leads the way for Duquesne scoring 18.6 ppg while handing out four assists. Charles Mitchell (13.3 ppg/11.8 rpg) paces a Yellowjackets squad which has won five of six.
George Washington (10-2) at UCF (6-4) 7 p.m. ESPN3
GW will look to recover from a disappointing 21-point loss at DePaul last Wednesday. The Colonials had won four straight prior to that game. Tyler Cavanaugh (16.1 ppg) heads a squad which boast five players averaging eight or more points per night. UCF has won five of six. Daiquan Walker scores nine and leads the Knights with 4.4 assists per game.
Saint Louis (5-6) at Kansas State (9-2) 8 p.m. FS Midwest
Jim Crews and his Billikens will look to snap a three-game skid when they travel to Lawrence, Kansas for this A-10 – Big 12 matchup. Miles Reynolds hands out 3.7 assists per game for an SLU club which is 17th in the nation with helpers on 64 percent of their baskets. Justin Edwards and Wesley Iwundu score 13.3 per game for the Wildcats who have won five of six.
Richmond (8-3) at Texas Tech (9-1) 9 p.m.  FS Southwest Plus
Richmond will look to shake the rust after a week layoff when they travel to Lubbock to take on their second Big 12 foe of the season. The Spiders dropped a 67-59 decision to West Virginia on November 26th. They rebounded to defeat then No. 14 California, 94-90 in their next outing. The Spiders have won four straight going into this matchup. The Spiders lead the A-10 and are 20th in the nation with an assist to turnover ratio of 1.595:1. Terry Allen scores 20 a game for UR. Tech's only loss was a 73-63 setback to then No. 16 Utah on November 19th. The Red Raiders have rattled off eight straight since then. Devaugntah Williams nets 14.2 a game.
Wednesday
Arkansas (6-5) at Dayton (9-2) 8 p.m. CBS Sports Network
Archie Miller will be looking to be the fifth coach in school history to reach 100 wins as UD hosts the Razorbacks. The Flyers will be seeking a slice of revenge after falling by 14 at Bud Walton Arena last year. Dayton leads the A-10 and is 21st in the nation limiting opponents to 41.1 percent inside the arc. Scoochie Smith drops 11.2 while leading the Flyers with 4.2 assists per game. Dayton is 2-0 against the SEC this season with wins over Alabama and Vanderbilt. Anthlon Bell scores 17.1 per game for an Arkansas club which has lost four games by single digits this season.
OTHER GAMES:
Tuesday
Maryland Eastern Shore (3-10) at Saint Joseph's (9-2) 7 p.m.
LIU Brooklyn (6-4) at UMass (6-5) 7 p.m.
Wednesday
North Florida (10-5) at VCU (7-5) 7 p.m. CBS 6.1
Niagara (3-9) at St. Bonaventure (7-3) 7 p.m. Time Warner
Rhode Island (7-5) at Brown (4-7) 7 p.m.
Thursday
La Salle (4-5) at Florida Gulf Coast (6-7) 1:30 p.m. ESPN3