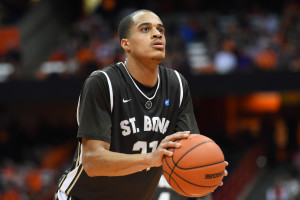 By PAUL GOTHAM
BUFFALO, N.Y. — There's a reason teammates nicknamed Dion Wright the "Worm," and it was on display Wednesday night at Alumni Arena.
On an evening when shots from long range found more iron than net, Wright slithered in and around the University of Buffalo defense finishing with a career night and leading St. Bonaventure to its third win in four games.
"He kept us in the game," Bona head coach Mark Schmidt said. "Our guards weren't shooting the ball well, but Dion was effective. He's a hard matchup because he's a four man that can take guys off the dribble. He did an exceptional job. We wouldn't have won without his offensive output."
After taking just 11 shots in a loss to Hofstra the last time out, Wright found his rhythm early on and did not shy away netting 10 of the Bonnies first dozen points. He finished with 26 on the night hitting 12 of 19 shots from the floor.
"My teammates found me in positions where I was able to score," Wright said. "I just tried to make the most of those opportunities when I caught the ball."
Teammate Marcus Posley led Wright for a jumper and a 23-22 SBU edge.
"He definitely made it count this game," Posley stated. "He was hitting shots we knew he could hit. The hotter he is the more we play through him. Dion carried us."
With Wright finding the measure, the Bonnies did not trail again.
"Maybe we should have found a better matchup for him earlier," first-year UB coach Nate Oats commented. "We had worked on doubling him. It's hard to double him 20 feet from the rim. We had worked on post doubles. He got the ball so deep on the post catches that it was too late to double him on some of those catches. When he's driving it from 20 feet, it's not really a time to go double a guy. You just got get tighter in the gaps and kinda try to pinch that thing out."
Wright opened the scoring with a jump hook in the lane. He knotted the the game at six when Idris Taqqee found him in the lane for a bucket. He scored on a putback in transition and took a Nelson Kaputo feed into the open court for a dunk to give Bona a 10-8 lead. A catch at the top of the arc and a runner just outside the key made it 14-12 Bonnies with 10:37 to go in the first half.
Wright was just getting warmed up.
"Some guys have a hard time scoring," Schmidt noted. "Dion has a talent when it comes to putting the ball in the basket. He does it in a variety of ways."
Later on there was another runner. Then Wright took an inbound pass and used a spin dribble to set up a jump hook just inside the free throw line. It was a  shot where it looked like his eyes didn't find the rim.
"I'm not sure if Dion knows what he's doing, but the ball goes in," Schmidt added. "A lot of times it looks unorthodox, but it goes in. And that's part of the difficulty guarding him because he is so unorthodox."
For UB and Oats the game could have been a rerun from last year when Wright tallied 19 in a 72-63 win over the Bulls at the Reilly Center.
"He's got like the YMCA game a little bit," said Oats who was an assistant to Bobby Hurley a year ago on the UB staff. "You don't think he's going to blow by you then he's to the rim finishing a second later. He's good though. I'm not going to be sad to see him leave for sure. He hurt us two years in a row now."
Fittingly, Wright figured in the game winner when he took a feed in the post and found Posley at the free throw line for a jumper and a 60-58 win.
"All the credit goes to Dion," Posley said. "He kept us in the game. Dion carried us the whole way."
The Bonnies finished just two of 21 behind the arc and eight of nine at the free throw line for the night.
UB, on the other hand, converted 19 of 32 free throws.
"We won because of our defense," Schmidt said. "We found a way. We got outscored at the foul line by 11. Thank goodness they didn't shoot great from the foul line. If your offense isn't going, you better play defense. We learned that against Hofstra. We had it going against Hofstra and then we went cold. Our defense didn't step up. Tonight it did.
"On the road, it doesn't need to be pretty. You just got to find a way to get one more basket than they do. We took a step. I'm not sure how big a step, but we took a step in the right direction."
Bona improved to 4-2 with the win and will host Ohio University on Saturday. A 4 p.m. tipoff is scheduled at the Reilly Center.