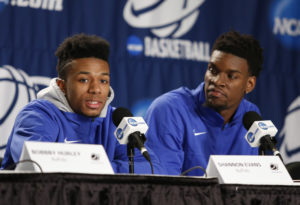 By PAUL GOTHAM
COLUMBUS, OH — Dictating pace while keeping all four wheels on the ground. That is the challenge in Friday's NCAA Tournament second round matchup pitting the No. 5-seed West Virginia Moutaineers (23-9) and the No. 12-seed Buffalo Bulls (23-9).
Two teams that push pace meet at Nationwide Arena.
Buffalo and West Virginia both rank in the nation's top 25 for possessions per game.
"They get out in transition, and they're heading downhill pretty much every possession," West Virginia's senior guard Juwan Staten said. "So that's something we definitely gotta get back out of our press and play good half court defense."
Both squads average better than 70 trips up and down the floor. Layups and open looks there for the taking, so, too, is possibility of careening out of control like Calvin and Hobbes in a red wagon.
For UB's second-year head coach, Bobby Hurley, the game will come down to trusting his personnel. UB's success against West Virginia's press starts with guards Shannon Evans and Lamonte Bearden, but extends to the entire lineup.
"They're so good and physical and they're pressing, and so taking care of it," Hurley said during Thursday's press conference. "Just having five guys on the same page, because as much as I'll say it's Shannon Evans and Lamonte Bearden's responsibility to handle pressure, those two guys can't beat it alone."
The Mountaineers lead the nation in total steals (305) and steals per game (10.9).
"They press a lot and they're real big and athletic," Evans stated. "So it's very important that we be strong with the ball and make great passes and just get in the offense as smoothly as possible."
West Virginia's 19.6 turnovers forced per game also leads the nation. To prepare for the pressure, UB practice against seven defenders this week.
"I don't think we faced anything in our conference like that because West Virginia is so big and athletic," Evans said. "We don't have anything like that in our conference."
"We did practice with multiple defenders," Hurley said. we've been doing this a lot to try and assimilate what it's going to be like. And we've talked to our players about being real physical on defense, even fouling so that we get used to the aggressive style of defense that we're going to face. And then the traps come in a variety of different ways. They could come in the back court. They could come as soon as the ball is entered."
While West Virginia's field goal percentage (41.2/813/1975) lands outside the top 200 nationally, the Mountaineers make up for with their work on the boards. Devin Williams (8.2 rpg) and Jonathan Holton (6 rpg) lead a WVU squad which tops the nation with 16.8 offensive rebounds per game.
"We understand that they're really good offensive rebounding team," UB forward and MAC tournament MVP Xavier Ford stated. "They're going to get some offensive rebounds. They're real good at it and it comes with the territory."
The Mountaineers have grabbed offensive boards at a staggering rate of 46 percent for the season.
"It's just limiting those offensive rebounds and us, bigs and guards, we're going to attack the offensive glass and try to force turnovers as well," Ford noted.
Staten leads WVU with 145. ppg and 4.6 apg, but the senior point guard and All Big 12 first team performer has sat out the last four games (three losses) with a knee injury.
"I've practiced for the last two days with no restrictions and no limitations," Staten stated. "I'm feeling good."
Player of the Year Justin Moss leads UB  and the MAC with 17.7 ppg and 9.3 rpg. The 6-7 junior forward has been hobbled with an injured ankle.
"He's getting close to 100 percent," Hurley said. "He'll obviously be out on the floor today and in our open practice, and I would think by tomorrow that he's going to be very close to being himself."
Evans adds 15.4 points while Ford and Jarryn Skeete score 9.5 apiece.
"They do a great job of pushing tempo," WVU's Bob Huggins commented. "They do a great job of creating numbers. But that's kind of what we like to do too. And I think they've taken on Bobby's personality. I think they're extremely competitive and play extremely hard."
Evans and Bearden combined for nine assists per game.
"They've got great speed with the ball, and they appear on film to be fearless," Huggins said. "They continue to attack and attack. And they've had games where they were down 14 and they're very capable of erasing big leads in a very short period of time. They're a good team."
Ten Mountaineers average double-digit minutes per game including senior Gary Browne the game's lone performer with NCAA Tournament experience.
"We're not obviously as deep as West Virginia, but we do have guys that are capable of making plays at a number of positions," Hurley explained. "I think we have pretty good balance on offense, and things usually start with Justin Moss and his physicality inside and his versatility to score inside and out. Our guards are kind of unpredictable in how they attack you and are very good off the bounce trying to create offense for us."
For all the current similarities between teams: wins (29), points per game (WVU 73.9/UB 75), opponents points per game (WVU 66.8/ UB 68.3), the two, historically,  create a stark contrast.
Huggins has made 21 NCAA Tournament appearances as a coach. West Virginia has punched a ticket to the dance on 26 occasions.
Hurley is making his first appearance in the NCAA Tournament as a coach with a program making its first trip.
The Bulls finished the season with a free throw percentage of 72.2 (573-of-794)  while West Virginia hits 66 percent (527-of-798).
The Bulls, winners of eight straight, can lean on a pair of performances earlier this season when UB led at Kentucky on November 16th and at Wisconsin on December 28th before eventually losing.
"Those kind of games help you for when we're playing in our conference tournament and the championship game and in this type of game to know that we're capable of playing with those kinds of teams," Hurley said.
A 2:10 pm tip time is scheduled. The game will be televised on TNT.
Earlier this season with UB struggling through a slump, Evans guaranteed a conference championship. The stakes are higher.
We feel like we played the best of the best, Kentucky and Wisconsin," Evans said. "So going to this tournament, we know that we can hang with the best. So now, with us trying not to be content just winning the MAC Championship and come out here and make a run at it."