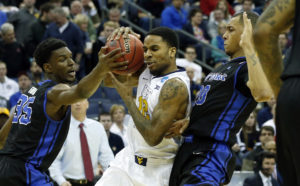 By PAUL GOTHAM
COLUMBUS, OH — Tarik Phillip sealed victory with a late three-pointer as West Virginia Mountaineers defeated the Buffalo Bulls, 68-62 to advance in the 2015 NCAA Tournament.
Phillip proved to be an unlikely hero as he connected from behind the arc for just the fifth time on the season when teammate Juwan Staten led him for an open look.
"The previous possession I got my shot blocked, so I was just thinking to get it up," Phillip said. "When he found me, I just thought, get it up on the rim."
Phillip's three-pointer gave the Mountaineers a two-possession lead with 28 seconds remaining in the game.
"He's that kind of kid," West Virginia's Bob Huggins said. "Probably the only one who wanted Tarik to shoot it was Tarik. He had to, it was the end of the clock. But he relishes that kind of moment."
The loss snapped an eight-game UB winning streak and ended the Bulls first trip to the NCAA Tournament.
"Obviously it's a tough pill to swallow," UB's head coach Bobby Hurley said. "We were finished with moral victories when we were at Kentucky and Wisconsin. We had the mindset of coming here, trying to win this basketball game and advancing."
Despite struggling from the free throw line and the field for much of the game, the Bulls managed to rally late and tie the score.
"I was proud of my team and how we responded to the deficit we had at halftime," Hurley added.  "I think it came down to a couple of very crucial plays that went against us."
Xavier Ford capped a late rally as UB erased a double-deficit to knot the game with 2:41 to go. He tied the score at 62 when he drilled a three-pointer from the left wing.
"I felt like I had a lot of space to shoot the ball," Ford explained. "I was confident. I spent a lot of time working on that shot. And so I just let it go and it went in."
The senior forward finished with a team-high 16 on 5-of-9 shooting.
"You've got to credit West Virginia, they're a great team, and I'm just proud of my guys," Ford added. "We all went out here and battled and showed that we can compete with anybody."
Trailing by 11 with 11:53 left on the clock Shannon Evans, Justin Moss and Rodell Wigginton converted pairs of free throws to trim the lead to seven. Lamonte Bearden led Ford in transition for a catch-and-shoot three. Bearden found a gap in West Virginia's 1-3-1 zone for a layup, before Evans drove the lane and dished to Ford for a layup and one to draw the Bulls as close as they had been all game.
"Coach got on us at halftime," Evans said. "Told us to take care of the ball, be more strong with it. So we came out in the second half more composed and tried to play with more poise."
Juwan Staten pushed the West Virginia lead back to three with a drive from the top of the key before Ford tied the score.
"They made it real tough for us," Staten noted. "They were gapping everything and forcing us to take outside shots. We tried to screen and rescreen a lot of times. But every time I came off they kind of funneled me to one side. I just had to probe and probe and see what the bigs was going to do."
"Staten is really good out there," Hurley said. "We did better down the stretch, and we tried to suck in as much as we can with our guys off the ball so that we would try to limit his driving lanes and their ability to break us down in ball screens."
Devin Williams netted a game-high 17 including four points in the early going as the Mountaineers jumped to 7-0 lead.
"It's been like that all year, definitely playing in the Big 12," Williams said. "It's always close. So it was something we was familiar with and understood. We just had to stay composed and just do what we do. And that's what we did. We just played with each other and things just happened to happen."
West Virginia came into the game leading the nation with 19 turnovers forced and 16.8 offensive rebounds per game. The Bulls limited their miscues to 17 and held WVU to nine offensive boards.
"I think our guys, as the game wore on, started to figure out how hard they needed to cut, how we needed to attack it," Hurley said. "But initially, in the early stages of the game, it's just hard to figure that out as a player. Just not something we face very often."
Staten scored 15 and handed out a game-high seven assists. Daxter Miles Jr. added 10. Williams grabbed a game-high nine rebounds.
West Virginia outscored UB in the paint (28-22), off turnovers (15-8), second-chance points (11-7) and bench points (21-10).
"They're really good," Hurley said. "I don't know how much of this game would have taken out of them physically and emotionally, but they're the type of team that's physical and athletic enough to win games, moving forward in the tournament."
Evans scored 15, and Moss had 13.
UB scored 11 fast break to zero for West Virginia.
UB came into the game shooting 78 percent from the free throw line. The Bulls hit 16-of-25 from the charity stripe. West Virginia hit 19-of-27.
The Mountaineers move on to play the Maryland Terrapins in the third round of the NCAA Tournament.