By JOHNATHAN SNYDER
Originally published on Western New York Big 4 Talk
CLEVELAND, OH – A month ago, Shannon Evans promised Buffalo that his University at Buffalo Bulls would be on top at the end of the season.
A sophomore, who wears his emotions on his sleeve and went out on a limb in the midst of a three-game losing streak, has made good on his promise.
The Bulls are finally going dancing.
"I made a promise to Buffalo that we were going to bring home a MAC championship," Evans said. "We all bought in to the system and we all came together after the three-game losing streak… We're champs now."
Tournament MVP Xavier Ford finished with 18 points and four rebounds while Evans also scored 18 as Buffalo defeated top-seeded Central Michigan 89-84 on Saturday night in the MAC Championship game at Quicken Loans Arena to advance to the NCAA Tournament for the first time in school history.
"I'm really proud of my team," Bulls head coach Bobby Hurley said. "I'm proud of the accomplishment that this group achieved, the first time in school history that we're MAC Champions. This team has so much heart and really came together when we suffered a tough loss at six and six in the conference, to respond the way we have and to win eight straight games. It's easy to coach when you have guys like Shannon Evans, and Xavier Ford, and Will Regan, Lamonte Bearden, and Justin Moss and just go right down the line. This is an amazing group of kids."
Ford averaged 17.5 points and 7.5 rebounds in the two games UB won in the tournament. The senior provided his usual high-energy spark on the glass and near the rim, but stepped outside the arc and buried three triples as well.
"No one deserves it more than X," senior Will Regan said. "You don't see what he does behind closed doors but the kid over four years never stopped working on his game. He deserves every moment of this right now."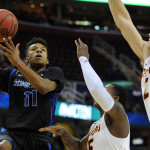 Bobby Hurley has plenty of experience in the NCAA Tournament and more than makes up for what is missing in the Buffalo program. The all-time NCAA assists leader led Duke University to two National Championships and was quick to point out with a smile on his face, that he was 3-0 against Michigan's "Fab Five."
The Bulls shot 49 percent from the floor and 45 percent from beyond the arc. They shot 57 percent in the second half and on the defensive end, held the Chippewas to 28 percent from beyond the arc in the second session.
Central Michigan came into the game leading the conference in two-point, and three-point shooting as well as points per possession.
Junior Chris Fowler, who was named to the All-Tournament team, finished with a game-high 27 points after scoring 24 in a semifinal win over Toledo on Friday. UB made him work in the second half. After scoring 13 over the opening 20 minutes, the Bulls held the All-MAC first-teamer to just two points over the first 9:47 of the second half, and scoreless for more than nine minutes.
"We got a good defensive team," Ford said. "I started off on Fowler. I was going to just try and cause him trouble with my length and athleticism, just try and make him finish over me. He's a good player and he's real strong so my length and athleticism gave him trouble at times but he made a lot of big plays, he's a great player, and that's a great time we ended up beating."
For the third straight game, senior Will Regan came up clutch when his team needed him the most. Regan popped and connected on a catch and shoot three to break a 50-all tie with 14:21 left. The Bulls led the rest of the way.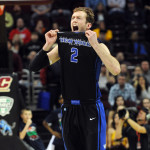 "I think they were in zone at the time," Regan said. "We ran a play but I noticed that right when I was popping out, they were confused, so I knew I was going to be able to line that one up so I just let it fly.
"Between me, there's X, Shannon, and there's a lot of guys that put so much time in the gym that you just rely on what you've done over your whole career," Regan continued. "And it pays off now. This is our third game in a row I've hit a timely three because it's you put the time in the gym."
Evans hit on 3-of-6 triples and the Bulls made 10-of-22. Junior guard Jarryn Skeete hit the dagger with 2:17 remaining. After forcing a miss, the Bulls beat a Central Michigan press and freshman Lamonte Bearden found Skeete on the wing who buried one of his two threes.
The Bulls exerted most of its defensive energy on the three-ball. With Justin Moss still visibly hobbled by an ankle injury, Skeete and many of Buffalo's smaller guards were put on forwards Luke Meyer and John Simons in the post, making it tough for the skilled big men to step out and knock down the long ball. Simons hit two threes in the first three minutes, and didn't connect the rest of the game.
"I think since the second time we played them they were switching on anybody who was guarding me and were trying to stay home which opened it up for our guards to drive," Simons said. "I got a few decent looks in the first half and then I was able to draw a couple fouls. They do a good job of switching no matter if it's their biggest guy or smallest guy, it doesn't matter. They are going to switch either way. That was their game plan and stuck to it."
Moss battled through his injury that held him to just 23 minutes in Friday's win. The MAC Player of the Year finished with 10 points and 11 rebounds in 36 minutes, his 15th double-double of the year. He scored seven of those points in the second half and looked noticeably more energized and explosive after halftime.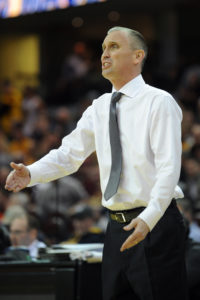 UB trailed 32-28 nearing the end of the first half but rattled off a 10-0 run to take a six-point lead. Bearden got the run started after going coast-to-coast and finishing through a foul. After making the free throw, Moss made it back-to-back three-point plays before Bearden led Rodell Wigginton with a lob for a huge alley-oop off a back screen.
Evans capped the run with two free throws.
The Bulls and Chips both traded baskets during a four-minute stretch late in the second half as both teams scored on 12 consecutive possessions. The Buffalo lead was seven at the end of the run, and it was too tough for Central Michigan to come back.
"Whoever came through this in Cleveland, whether it was two games or five games it was going to be well deserved," Central head coach Keno Davis said. "I thought Buffalo played an outstanding game, both offensively and defensively tonight. Congratulations to them and I hope they do well to represent the conference next week."
UB turned 10 Central Michigan turnovers into 15 points and converted 13 offensive rebounds into 15 points.
With Selection Sunday less than 24 hours away, the Bulls will anxiously await their opponent, seed, and opening round location. Until then, celebrating and rejoicing is what Hurley and the Bulls will do.
"I think it will hit us afterwards," Regan said.  "I mean, we're a good team and we want to win, and once we end up at our final destination, I think that's when its really going to hit us."
Johnathan Snyder is the founder and owner of Western New York Big 4 Talk.