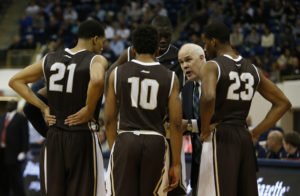 By RYAN LAZO
BROOKLYN — The scene had played itself before hundreds of times in every St. Bonaventure fan's mind. Bona with the ball, trailing by two, as the game clock inches closer to the 40 minutes of time allotted. Twice this season, Bona had been in this position, and twice they had sent alumni into delirium with a buzzer-beating win.
Once Dayton's Jordan Sibert connected on the last of two free throws at the line with 11.9 seconds remaining, there was no doubting which Bona player would have the ball in his hands. Off the inbounds, it was Marcus Posley dribbling feverishly up the court.
The junior, who had hit two buzzer-beaters in a three-day span back in February, eyed the clock, dribbled to his right and found a lane into the paint. Posley rose into the air as Dayton's Kendall Pollard slid over and rose off the court. Pollard's arm connected with basketball, swiping away possession from Bona and resulting in a basket the other way.
In an instant, Bona, a team one basket away from playing in a third Atlantic 10 Tournament semifinals in four years, found their season end rather abruptly instead.
"Seeing the gap, thought I could get to the basket," Posley said after Pollard's strip secured a 75-71 victory for Dayton. "Unfortunately he got his hand on the ball.  Unfortunately it didn't pan out the way we wanted it to, but proud of the guys. It was a great effort today."
In truth, Bona (18-13) played almost the perfect game.
The Bonnies won the rebounding battle, 26 to 23, shot 58 percent from the field in the game, and completely took the Flyers' (24-7) Dyshawn Pierre and Scoochie Smith (5-of-13) out of the game on the offensive side. St. Bonaventure and Dayton traded leads 15 times, and were tied 10 times with Bona leading for 19:09 on the clock.
Holding a five-point lead with 2:11 remaining after Posley connected on two free throws during a 26-point effort on 7-of-16 shooting, Bona was on the verge of securing the upset. But in those final two minutes, winning teams make winning plays.
Bona senior Andell Cumberbatch, who shot 2-of-3 from 3 for 8 points, got into the lane and missed a lay-up, and Dayton countered with a Sibert 3-pointer of their own to take a two-point lead. Even with Posley connecting on the Bonnies' next two trips down the court, the damage was done, and Bona never could get over the hump.
"That execution down the stretch was a must," Posley said. "Coming into the game, we wanted to do it for the seniors.  Unfortunately we couldn't pull off the win for them, but it was a great year we had for them."
"I think it hurts, but I think it's a great learning experience, a great lesson for our young guys that you really have to execute at this level to win, especially the last two or three minutes," Bona coach Mark Schmidt added. "Dayton, I thought, did a better job in that area."
Yes, the loss surely hurt. St. Bonaventure had the game in hand only to see it slip away, but it also hinted of what may come.
It starts with Dion Wright who turned in one of the most impressive performances one will ever see, at one point seeming like he would never miss on the night. Wright started off a perfect 10-of-10 from the field, and even connected on 4-of-5 from beyond the arc in a 24-point, nine-rebound effort.
The junior entered the contest shooting just 1-for-8 from 3-point range.
"They shot the ball extremely well," Dayton coach Archie Miller said of Wright who tied an A-10 Championship record by shooting. 909 from the field. "Dion Wright, in particular, from three, that threw a monkey wrench into what we were doing. He hadn't done that coming in."
And it continues with the play of Posley, who along with injured point guard Jay Adams, could form one of the best backcourts in the A-10 next season.
"I feel bad for St. Bonaventure because, in my opinion, of all freshmen point guards, one of the best point guards we've seen in the league for a while as a freshman wasn't able to finish the season for them," Miller added. "When he comes back next year, they are going to have a nice backcourt with him and Marcus."
But it also comes down to the men in charge of Bona on the bench.
It's stated every year, but Schmidt always gets the most out of his St. Bonaventure teams. Once a perennial basement-dweller, Bona is a consistent winner in conference play. Their 11 conference wins marks the second-most in program history.
If not for some questionable losses to UMES and Delaware, along with closing out additional wins against URI (lost by 5) and UMass (lost by 2), Bona would be squarely on the NIT bubble. That coaching job, with a flawed roster, may be Schmidt's finest in Olean.
"I think St. Bonaventure is coached by one of the more underrated coaches in all of college basketball," Miller said. "Coach Schmidt does a phenomenal job; he always has."
While Bona fell short this season, Schmidt has proven time and again, St. Bonaventure is capable of some magic, perhaps even as soon as next season.
Ryan Lazo is a sports clerk at the New York Post. You can follow him on Twitter @ByRyanLazo.