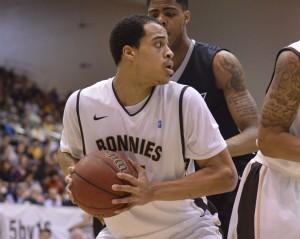 By RYAN LAZO
BROOKLYN — Marcus Posley's shots clanked off the iron, Youssou Ndoye could not establish position in the paint, and St. Bonaventure struggled mightily in their half court offense during the opening minutes of their second round match-up in the Atlantic 10 Tournament.
Staring them in their face, the flapping wings of a Saint Joseph's team which Bona had defeated twice earlier this season. The Hawks, the very team which eliminated the Bonnies from last year's A-10 Tournament, had the ideal game-plan to halt a Bona offense which entered the contest not exactly humming like a perfect engine.
The 2-3 zone, Bona's kryptonite, had St. Bonaventure on their heels. With eight minutes left in the first half, the Hawks found themselves leading by 10 points, forcing a Bona timeout. And that's when momentum started to shift.
St. Bonaventure did not immediately catch fire, shooting a frigid 33 percent in the first half, but they did regain enough footing to pull within five points at the break. Then, in the second half, Bona took control.
Dion Wright scored four points during a 10-0 Bona run, capped off by an Andell Cumberbatch and-1 finish, to take a three-point lead which they would never relinquish. Bona clamped down defensively, holding the Hawks to an incredible 17 percent from the field in the second half, and 25 percent for the game, in a tidy 60-49 victory which at first seemed destined for failure.
"We were getting, you know, decent shots and good looks," Posley said after a 13-point, six-assist effort. "We just had to knock the shots down.  But unfortunately they didn't fall like the way we wanted to the first half.  But the second half we sparked it up defensively a little bit.  Just found our rhythm."
Finding a rhythm during an A-10 Tournament game is nothing new for a Bona team which has now won six of its last seven games in tournament action. Just last year, the Bonnies stunned No. 1 seeded St. Louis to reach the semifinals, showcasing a habit of playing their best when it matters most.
However, entering this year's tournament, there were questions abound about Bona. The team came in having won its last four games, and five of six, but it had not found its rhythm. There's that word again.
Losing Jay Adams, possibly for the season (although Mark Schmidt refused to rule it out at his presser), set the Bona offense back. Adams held one of the best assist-to-turnover ratios in the conference and was a three-time A-10 Rookie of the Week. However, in his absence, Posley has finally began to feel comfortable in the point guard spot and it's starting to result in impressive play.
"Marcus is doing a heck of a job," Schmidt said of his point guard. "If you really know basketball, to take the two guard, who has a scoring mentality, and put him at the point guard and tell him to run the team, that's a hard job … It took us a couple games to try to get our rhythm.  But he's done a tremendous job and that's such a big transition."
And while Posley's play has become steadier, what has remained consistent is Bona's ability to play defense and crash the boards. Without their best defensive effort of the season, the Hawks may have been able to pull away with a victory. Instead, St. Bonaventure frustrated Saint Joseph's do-it-all scorer Deandre' Bembry with constant switches and not allowing him to get open looks.
Additionally, sophomore Denzel Gregg scored just two points on a ghastly 1-for-6 night, but his career-high, 15-rebound effort helped fuel Bona to the victory. In fact, St. Bonaventure dominated the battle on the glass by a 48 to 33 margin.
But even in the aftermath of a solid win, Bona knows they will need a better effort to take out second-seeded Dayton tomorrow night. The Bonnies can't commit 15 turnovers and advance. They need solid efforts from Youssou Ndoye (18 points and eight boards) and Wright (15 points and nine boards) to even have a chance.
In two previous meetings, Dayton has defeated Bona by an average margin of 15 points per game.
"Hopefully we play better. They are just good," Schmidt said. "You know, (Dayton's Dyshawn) Pierre, I think, in my opinion is a first‑team all‑league player. To me, he's the key to their team. He does everything …And hopefully we can defend them better than we did in the first two tries that we had."
If there is one thing learned about Bona it's they can beat the best teams (Davidson, VCU), but suffer mind-numbing set-backs (UMES anyone?). But if they can replicate the stifling defense they played against the Hawks in their contest with the Flyers, Bona should reach the conference semis for the third time in the last four years.
Ryan Lazo is a sports clerk for the NY Post. You can follow him on Twitter @ByRyanLazo.