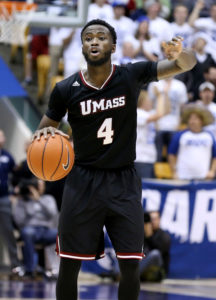 By Paul Gotham
OLEAN, N.Y. — Jabarie Hinds connected on a late three-pointer as the UMass Minutemen erased a six-point second half deficit en route to a 55-53 victory over St. Bonaventure in Atlantic 10 conference action at the Reilly Center, Wednesday night.
The redshirt junior hit his only three-pointer of the evening with eight seconds remaining on the clock and capped a furious series of events in the game's final moments.
"They hit a big shot," St. Bonaventure coach Mark Schmidt said. "Give them credit."
Leading by one with 23.1 seconds to go, St. Bonaventure had possession of the ball on an inbound play, but Derrick Gordon claimed an errant pass and found Trey Davis at the top of the key who fed Hinds for the game-winner.
"(Derrick) made a great play to (get the ball to) Trey," UMass head coach Derek Kellogg said.  "We've been preaching quite a bit to make the extra pass in that particular instance. Trey had forced the offense a couple times. To see him make the extra pass to Jabarie was nice."
The Minutemen (15-9/8-3 A-10) scored the game's last eight points to secure their fifth win in a row and move into a four-way tie atop the A-10.
"In the Atlantic 10 you gotta execute," Schmidt commented. "If someone told me that we were going to be up one with the basketball, with 20 seconds left, you take it. We just didn't execute something that we go over all the time."
Dion Wright scored the Bonnies final points of the night when he drove across the lane and finished off a jump stop. Cady Lalanne followed with a rebound and putback. Gordon hit one of two free throws, and Davis converted a pair at the stripe to make it a one-point game at 53-52.
"We didn't play 40 minutes," Schmidt stated. "We didn't execute at the end. We had probably three mishaps. We didn't get a rebound on  a foul shot. We fouled 94 feet from the basket. We don't execute an out-of-bounds play."
The Bonnies played the final sequence without starting point guard, Jay Adams, who fouled out with 1:20 remaining in the game.
"You can say that last play lost the game, but in a game like this where it's back and forth there's a lot of plays in the game," Schmidt explained. "Yeah, you always want to have your point guard in the game. That's common sense. It's a team game. Other guys have to pick him up."
Bona led 53-49 when Adams went to the bench.
SBU looked in control when Andell Cumberbatch pulled down the rebound on Gordon's free throw attempt, but Davis stripped the ball and got to the line for two more free throws.
Bona had one last chance to tie or win the game but Cumberbatch's three-point attempt kicked long off the rim. Youssou Ndoye's putback at the buzzer also found iron.
The Bonnies won their last two games at the horn with Marcus Posley converting in both situations. UMass wasn't going to let the SBU guard strike again.
"Right after that shot, I was just thinking, 'Posley, Posley, Posley,'" Hinds said. "I was just looking for him. If he got the ball, I just wanted to make him put up a contested hard shot."
UMass converted 10 first-half Bona turnovers into 11 points and took a seven-point advantage into the locker room at halftime.
Davis capped an 8-0 spurt late in the half with a floater outside the lane as UMass broke open a single-possession game.
"We didn't get off to a great start," Schmidt noted. "The last six or seven minutes of the first half we didn't play very well. We turned the ball over a little too much in the first half."
UMass led 30-23 at half.
The Bonnies opened the second half on an 18-5 run.
Cumberbatch finished a layup on the break. Adams drilled a catch-and-shoot three-pointer from the top of the key. Posley drove baseline and found Wright in the lane for a dunk. Ndoye hit a jump hook. Posley dropped a pair of free throws. Cumberbatch nailed a pull-up jumper, and Wright made it a six-point game with a trifecta followed by a steal and layup.
Bona led 41-35 with 13:12 remaining in the game.
"We responded," Schmidt commented. "That was good to see. We got some stops. We got some baskets which were hard to come by with both teams. I thought we responded, and we took the lead. We had the game where we wanted to. We just didn't execute down the stretch, and they did a better job in executing."
UMass came into the contest averaging 70.1 points per game.
"We forced 20 turnovers," Schmidt noted. "I thought we did the job defensively."
Posley scored a game-high 13, but it came at the price of 4 of 16 shooting.
"I was just trying to slowly find a rhythm by doing other things not just offense, playing defense, rebounding and trying to help the team win," Posley said.
The game contained 10 lead changes and three ties.
UMass hit 2 of 9 attempts behind the three-point arc.
Bona (13-9/6-5) travels to Dayton (18-5/8-3) for a 12:30 pm start on Saturday. The game will be televised on NBCSN.
UMass hosts Duquesne (8-14/3-8) for a 4 pm start, Saturday.
Matt Vautour of the Hampshire Gazette contributed quotes to this article.