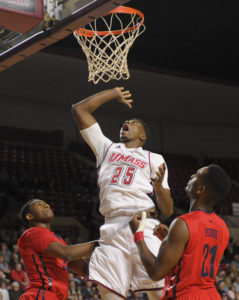 By Aaron Mansfield
AMHERST, MASS. – On paper, it was a mismatch: the tallest player on Dayton's roster is 6-foot-6, while UMass' Cady Lalanne, averaging nearly a double-double this year, is a powerful 6-foot-10. (That's not to mention his 7-foot-3 wingspan and that he had 43 pounds on Kendall Pollard, the forward tasked with guarding him.)
On the court, it was almost unfair.
It didn't matter how many bodies Dayton sent to the restricted area to try to corral Lalanne. It didn't matter how the Flyers tried to play it – make them pass over the top, send help from a speedy guard. It didn't matter how rapidly the Flyers pushed the ball or that they had 15 fast-break points to UMass' 2.
The big man found a way to get his touches, and he found a way to get the orange up in the cylinder. Lalanne finished with 18 points and seven boards, and UMass (11-9, 4-3 Atlantic 10) held home court to upset the Flyers (16-4, 6-2 A-10), 66-64.
Massachusetts head coach Derek Kellogg said Lalanne was as effective as he has been at any point this year.
"He was great, and you know what he did up until the last one we threw to him? He kept the ball pretty high," Kellogg said, using his hands to hold an imaginary ball above his head, "and didn't let the little guys get in there."
"When he fought for position, the guys were looking to throw over the top to him … 18 points, seven rebounds, and it felt like he had more because he actually kind of patrolled the paint."
Lalanne said playing against Davidson, a team similar to Dayton – a game UMass lost, 71-63, Jan. 14 – was good preparation for Dayton. He also said he knew the Flyers would come out in the second half keen on shutting him down (actually, Kellogg told the team that one) after a 14-point first half in which he shot 7 for 11 from the field. Dayton did do a better job on Lalanne down the stretch, but other UMass players, such as junior guard Trey Davis (15 points), made big plays to seal the win.
Though Dayton has consistently played a small lineup (6-0, 6-2, 6-4, 6-6, 6-6), opponents have struggled to take advantage of the size disparity because of the Flyers' frenetic defense. Guards and wings flock to passing lanes and hurry to help. Their athleticism and balance across the floor – if needed, they could probably switch five – creates chaos.
Based on points against, Dayton entered with the 30th-best defense in the country (allowing just 59.1 per contest). The Flyers were 15-1 when holding teams under 70 points. UMass' 66 points are the most Dayton has allowed in conference.
Kellogg said Dayton "has proved on a national level how good they've been," referencing the Flyers' Elite Eight run last March, which ended with a loss to the No. 1 seeded Florida Gators.
"Everybody is kind of in a dogfight," Kellogg said of the log-jammed Atlantic 10, in which eight teams have winning conference records. "[Rhode Island] wins by 1 yesterday, and you know, some of the games we've seen all over the place, it's been interesting to say the least. I'm hoping we can play that way every game."
Dayton led for only 8 seconds of this game (that lead came to an abrupt halt with UMass getting the ball inside to Lalanne for a bucket), but the Flyers were in it from start to finish. The score was 36-34 Massachusetts at the half, but it seemed the Minutemen could have been up double digits. Dayton kept hanging around.
UMass built its lead to nine by the under-8 timeout in the second half (57-48), but Dayton closed the gap to 62-59 with just over a minute to go. The Flyers had opportunities to make it closer – a missed free throw and botched layup – but couldn't cash in.
Davis hit four key free throws in the final minute, and Pollard's three-quarters-court desperation heave was blocked.
A scary moment happened in the waning moments, when Davis was drilled by a Pollard ball screen. There appeared to be miscommunication on Massachusetts' end, as Kellogg berated his squad while Davis lay on the ground.
He stayed down for about two minutes before being helped to his feet. He held his head as he walked off. Kellogg said Davis "got his bell rang." The hit reminded Kellogg of the screen UMass' Matt Glass set on Rhode Island's Lamonte Ulmer on a game-winning play in 2009.
"He's OK, I think," Kellogg said of Davis. "He says he's OK, so I don't think we'll have any issues come Saturday."
Kellogg also received nice performances from freshman guard Donte Clark (nine assists) and senior forward Maxie Esho (eight points, nine boards). With 12:43 remaining, Clark found Esho for a monster alley-oop that sent the Mullins Center into hysteria.
"I could throw it to the roof and Maxie could probably catch it," Clark said.
Jordan Sibert led Dayton with 19 points, and Pollard added 12. Dyshawn Pierre filled the stat sheet with seven points, 13 rebounds and seven assists.
The Flyers host conference bottom-feeder Fordham (5-13, 0-7 A-10) Sunday at 2 p.m. The Minutemen are in action next at St. Louis, which is 9-10 and 1-5 in the A-10, Saturday at 4 p.m.