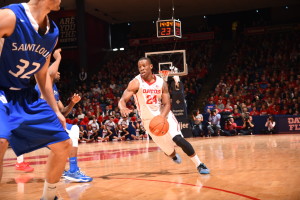 By Paul Gotham
When it comes to shooting a basketball, there is no questioning Jordan Sibert's courage. He leads the University of Dayton Flyers netting nearly 16 points a game. The senior guard has scored double-digits in 14 of 17 games this year including five of 20 points or more. The Cincinnati, Ohio native's 3-pointer in the final minute helped seal Dayton's victory over Syracuse in the third round of the 2014 NCAA Tournament.
But Sibert's  recent decision to not shoot could make the difference later on this season.
With Dayton hitting less than 35 percent from the floor and trailing at halftime against La Salle, Sibert let his teammates take over. The result was a 38-25 second-half performance where the Flyers hit 14-of-22 (63.6 percent) field goals including 3-of-4 behind the arc.
Sibert went one-of-three after the break and converted all four of his free throw attempts leading to a 61-50 UD win – their seventh of eight straight victories.
"My gut tells me that they played so well in the second half that he took what came to him," said La Salle head coach Dr. John Giannini. "It's a real credit to a guy like Sibert that his team can play well without him forcing anything."
Sibert finished the night with nine points managing to hit 2-of-10 (1-of-6 3-pointers) field goals. He did not attempt a shot behind the arc coming out of the locker room.
"They shared the ball, and they made shots," Giannini continued. "For them to take control of the game and shoot a high percentage without him scoring a lot, I think that's an even greater credit to him and his ability to play the game correctly and play team basketball."
The second half of the La Salle game has been part of a trend for Sibert who started the season hitting 30 percent (19-of-62) from behind the arc in UD's first nine games. In the eight games since then, Sibert is hitting 38.5 percent (22-of-57).
"The big thing with him is being aggressive and taking good shots," Dayton head coach Archie Miller said. "When he forces the action sometimes is when he struggles."
Over the eight-game stretch, Sibert has hit two or more treys in seven games including a 5-of-9 outing against Duquesne's zone and 4-of-9 on the road at St. Bonaventure.
"I don't think he's forcing the action a ton in the last month or so," Miller added. "I think he's playing the game the right way. Other guys are finding him as well. Jordan has proven over the course of a year and a half with us that he's a definite threat behind the line."
And being a threat is just as important knocking down shots.
"You want to be close to him and near to him, so that he doesn't have too many easy looks," said Chris Mooney head coach of the Richmond Spiders whom Dayton plays on Saturday. "They're very difficult to defend because of Sibert and the way that he can shoot the ball. When you have to pay that much attention to a guy, it really helps everybody else."
Sibert's scoring is up from 12.2 ppg a year ago, but his shooting percentage and in particular behind the arc is down – he hit 42.6 percent (83-of-195) last year.  Such is the way when a player becomes the focal point of opposing defenses.
"His production is necessary for us, and he knows that he's got to be aggressive," Miller explained. "He makes mistakes but you can count on him for production."
Dayton travels to Davidson on Tuesday for their first-ever Atlantic 10 match-up with the Wildcats. Bob McKillop's offense ranks number in the A-10 scoring 82.4 points per game. The Wildcats' head coach knows his defense, and in particular on Sibert, will be put to the test.
"He's probably the guy who epitomizes their versatility better than anybody," McKillop said of Sibert.  "But if you start focusing on one of their guys, you're going to pay a major price. That's why they're so good. He's certainly extraordinary with his ability to shoot the three and being able to get fouled and make foul shots. He rebounds the ball very well. He passes the ball very well. He defends very well, but you can say that about every guy on Dayton's roster."
If discretion is the better part of valor, fans may see another half like the second stanza he had against La Salle. But percentages say Sibert will have more games like the one he played versus Duquesne.
"Our hope is that as he continues to go through this, his senior season, and that he continues to make the plays on both ends of the floor for us," Miller said. "He gives a guy who we can really count on game in and game out."