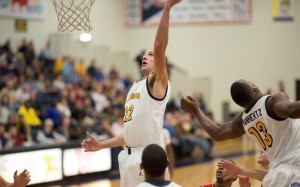 Canisius sophomore forward Phil Valenti was named the Big 4 Basketball Player of the Week on Monday after he averaged 14.5 points, 7.5 rebounds, 2.0 assists and 1.5 steals per game last week in a pair of Golden Griffin road wins at Saint Peter's and Niagara. 

In the win over Saint Peter's, Valenti was good for a team-high 14 points and five rebounds, and in the victory at Niagara, the Victor, N.Y., native posted his first career double-double with 15 points and 11 boards. For the week, Valenti shot 66.7 percent from the field, 60 percent from 3-point land and 75 percent from the free-throw line as the Griffs started 2-0 in MAAC play for the third-straight season.

Valenti ranks second on the Canisius team with his 11.0 points per game and he is the team leader with 6.7 rebounds per contest. He's shooting 50 percent (28-for-56) from the floor and 50 percent (8-for-16) from 3-point range, and his 15 assists and eight steals ranks second on the current roster as well.

The Griffs are 4-3 overall and 2-0 in MAAC play after defeating Saint Peter's and Niagara last week. Canisius will have a week off for final exams before traveling to play at UMass onSaturday, Dec. 13. Tipoff in Amherst, Mass., is set for 4 p.m.