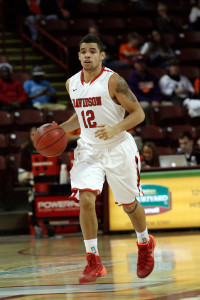 News and highlights from Atlantic 10 men's basketball.
Gibbs, Adams claim weekly awards
NEWPORT NEWS, Va.— Davidson sophomore Jack Gibbs and St. Bonaventure freshman Jaylen Adams were named the Atlantic 10 Conference's  Player and Rookie of the Week respectively Monday. The awards were for games played Nov. 24-30.
Highlighted by a career-high 37-point (22 in the first half) performance on 15-of-17 shooting, including five treys at UCF, Gibbs finished the week averaging 25.0 points, 5.0 rebounds, 3.0 assists and 2.0 steals per game, while leading the Wildcats to a 2-0 record. In addition, the Westerville, Ohio, product shot 72 percent from the floor (18-25), 50 percent (5-10) from behind the arc and made 9-of-10 charity tosses. The guard capped his week with 13 points and a game-high four assists against UNC Wilmington.
Adams averaged 13 points, 2.5 assists, 2.5 rebounds and 1.5 steals in a 2-0 week for the Bonnies. He scored a career-high 19 points in the win over Jackson State. He was 4-for-8 (.500) from 3-point range and 7-of-8 (.875) from the line. He also had three rebounds and an assist. The point guard from Baltimore, Md., followed that with seven points and four assists in a win over Niagara. He was a perfect 4-for-4 at the charity stripe to finish 11-of-12 (.917) at the line for the week. He was also 5-12 from three-point range over the two games. READ MORE INCLUDING THE WEEKLY HONOR ROLL.
Jenkins's buzzer beater lifts George Mason
FAIRFAX, Va. – Redshirt sophomore Jalen Jenkins sank a three-quarter court shot from just beyond Manhattan's foul line to give Mason a 64-63 victory Saturday afternoon over Manhattan in the Patriot Center. Jenkins set a career-high against the Jaspers finishing with 24 points. READ MORE...
Dayton defeats UIC
DAYTON — The University of Dayton men's basketball team took care of business on Saturday, taking down the UIC Flames in an easy 75-41 victory. Jordan Sibert led the Flyers with 22 points and was four-for six from three-point range. Devon Scott led in the rebound department for Dayton with an impressive 10 for the game.  Scott had his first career double-double with 13 points and 10 boards. READ MORE…
Fordham holds off Siena
Bronx, N.Y. (December 1, 2014) – Fordham freshman guard Eric Paschall had 19 points and three rebounds over the first 39:59 of the game with Siena tonight. But it was what he did in the final second that mattered most, as Paschall blocked a Patrick Cole layup at the buzzer to help the Rams hold off the Saints, 69-67, in the Rose Hill Gym. READ MORE…
Bonnies beat Niagara in Big 4 matchup
A week ago, Bona's Youssou Ndoye turned in a "quiet" performance with 12 rebounds and eight points. It was an outing of discretion being the better part of valor. Instead of giving into frustration, the Big 4 pre-season player of the year was content to let his teammates take the game. This Saturday the senior captain put a few exclamation points on the game with three dunks and five blocks. READ MORE…
Throwback afternoon brings back memories
Mark Schmidt didn't even see how his team looked in Buffalo Braves' orange in the Big Four Classic when his telephone rang. It was his best friend from Rhode Island asking if he could get his hands on a specific jersey worn by St. Bonaventure against Niagara. READ MORE…
Saint Joseph's edges LIU
Freshman James Demery hit a three-pointer to send the game into overtime and Saint Joseph's scored the first four points of the extra period as the Hawks defeated LIU Brooklyn, 74-70, in the NIT Season Tip-Off at Hagan Arena. READ MORE…
Duquesne falls to NJIT
PITTSBURGH – Damon Lynn scored 27 points and handed out eight assists as NJIT shot 56.9 percent in handing Duquesne its first loss of the young season by an 84-81 score at Palumbo Center. READ MORE…

VCU blows by UMES
The 15th-ranked VCU men's basketball bolted out to a 18-0 lead and never looked back on its way to a 3-0 start to the 2014-15 season and a dominating 106-66 win over University of Maryland-Eastern Shore in front of the 52nd consecutive sellout at the Verizon Wireless Arena at the Stuart C. Siegel Center. Freshman Terry Larrier led all scorers with 21 points on the night, while four other Rams reached double-figures, including senior Treveon Graham, who scored 17 points and reached 1,400 points in his career. READ MORE...
Richmond falls to UNI
CEDAR FALLS, IOWA – Richmond outplayed UNI in the second half, but could not overcome a 15-point halftime deficit and fell, 55-50, on the road on Sunday afternoon. READ MORE…
Spider Spotlight: T.J. Cline
UMass takes down Northeastern
AMHERST, Mass. – Despite the first major snow storm of the winter rolling through the Pioneer Valley, the UMass men's basketball team used a hot shooting performance along with a strong defensive effort to down Northeastern 79-54 on Wednesday afternoon at the Mullins Center. READ MORE and see Videos…
La Salle gives #8/7 UVA all it can handle
BROOKLYN, N.Y. – Redshirt sophomore Jordan Price scored 10 of his 20 points during a 13-1 run late in the second half to get the La Salle men's basketball team back in the game but the #8/7 Virginia Cavaliers proved too much to handle in a 64-56 UVa victory on Friday in the Barclays Center Classic. La Salle trailed by as many as 20 points with 13:16 to play before going on a 26-10 run to cut the deficit to just four with 1:12 to play. READ MORE…
GW edged by undefeated Seton Hall
NEWARK, N.J. – Junior guard Kethan Savage scored a season-high 19 points, but it wasn't enough as GW men's basketball dropped a tight 58-54 decision at Seton Hall at the Prudential Center on Saturday. READ MORE…
Defense leads Davidson over UNCW
DAVIDSON, N.C. – A strong defensive effort and double-figure scoring from Peyton Aldridge and Jack Gibbs led Davidson to a 72-49 victory over UNCW in non-conference men's basketball action Saturday afternoon at Belk Arena. READ MORE….