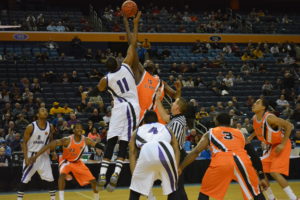 By Paul Gotham
Instant feedback from Saint Bonaventure's 74-59 victory over the Niagara Purple Eagles in game one of the 2014 Big 4 doubleheader at the First Niagara Center.
Not so quiet
A week ago, Bona's Youssou Ndoye turned in a "quiet" performance with 12 rebounds and eight points. It was an outing of discretion being the better part of valor. Instead of giving into frustration, the Big 4 pre-season player of the year was content to let his teammates take the game. This Saturday the senior captain put a few exclamation points on the game with three dunks and five blocks. Ndoye started the afternoon with a baseline jump hook which, if nothing else, was slick. Without hesitation he took a post entry on the left block, turned and score. The play set the tone for the rest of the afternoon. With 11 rebounds and a game-high 23 points, Ndoye notched his first double-double of the season. Not to be overlooked in the numbers was one dive on the floor where the 7-0 center saved a ball going out-of-bounds.
Productive Alston
It's official, Iakeem Alston's ankle looks better. In 13 minutes of playing time, the 6-2 guard dished out four assists while committing one turnover. He scored five points, grabbed a rebound and a steal along with taking two charges.
Not so close
Last year, Charlon Kloof went the length of the floor to score at the buzzer and give Bona a 74-72 victory. The last five games in the series have all been decided by single digits.
Confronting the achilles heel
In the early going this season, zone defense has been a challenge for the Bonnies. Siena went exclusively 2-3 in their 73-70 win at the Reilly Center. Canisius used the zone to stay close. Niagara tried to press back to zone for much the early going. The Bonnies committed seven turnovers in the first eight minutes and trailed 11-10 going into the first media timeout. SBU committed just eight miscues for the remainder of the game and forced NU to use man in half-court sets.
Not in the box score
Near the end of the first half, Jay Adams went to the deck trying to save a loose ball near halfcourt from going out-of-bounds. No sooner did the whistle blow and three of his teammates were there to lend a helping hand. All in.
NU bright spot
Ramone Snowden shared team high numbers netting 13 points. The 6-5 forward also grabbed a team high seven rebounds. Snowden hit 2-6 behind the arc but also showed the ability to work inside getting to the line for 5-5 shooting.
Look ahead
SBU hosts UB Wednesday night. A 7 pm tip is scheduled. Niagara plays at St. John's, Tuesday night.