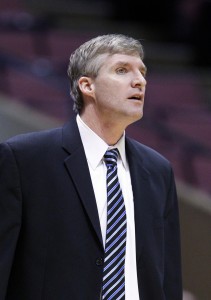 Compiled by Paul Gotham
Counting down to tipoff and previewing the incoming freshmen of the MAAC with a look at the first-year players of the St. Peter's Peacocks. The Peacocks finished 14-17 (9-11 MAAC) in 2013-14 and fell to Manhattan in the MAAC quarter-finals.
John Dunne welcomes two freshmen to campus: Elisha Boone and Rodney Hawkins.
Elisha Boone Fr. G 6-3, 181 Laurelton, NY/ Abraham Lincoln
Averaged 13.0 points per game during the regular season at Abraham Linclon High School last season and 20.0 points and 10.0 rebounds per game during the postseason… Served as team captain as a senior and helped his team to the Borough title.
What they're saying about Elisha Boone – Jamie Shaw/ Phenom Hoop Report: "Boone is a strong shooting guard who has a nice handle from the wing and ability to score the ball from deep and in the mid range."
Allen Rubin/ Hoop Scoop: "He can shoot the ball, put it on the floor and defend. He's a good get for St. Peter's."
Steve Keller/ National Recruiting Report: "He's a physical, tough kid. He mostly gets up and down. Not sure how much he shoots, but he's got good size, and he can really get to the basket."
Rodney Hawkins Fr. F 6-7, 190 Baltimore, MD/ Lake Clifton
A four-year letterwinner on the Lake Clifton boy's basketball team… Averaged 15.0 points and 12.0 rebounds per game in his high school career… Named a Baltimore City and Baltimore County All-Star… Helped his 2011-12 team to the state and regional title with a 27-3 record… Also participated in track and field as a senior and recorded a state record leap of 6-10 in the high jump. Will sit out the first semester of 2014-15 after transferring to Saint Peter's from Delaware State in January of 2014 due to NCAA Division I transfer regulations… Did not play a game for the Hornets.
What they're saying about Rodney Hawkins – Steve Keller/ National Recruiting Report: "He is a thin wing who can float around the outside and do some stuff. He's going to have to be a secondary rebounder."
Marcus Helton/ DMV Elite: "He's an athletic, high-motor type guy. Last I saw him, he was trying to play out on the wing. He was showing real progress. He's been able to step outside and knock down a mid-range jumper or a three here and there. He's a guy who can come in and develop."
James Lee/ Mid Atlantic Select: "He's a high-motor forward.  Good athlete. He's a little raw offensively, but he can develop. His calling will be on the defensive end and being able to defend multiple positions. He's tough enough to get work done in the paint but also can develop his wing skills."