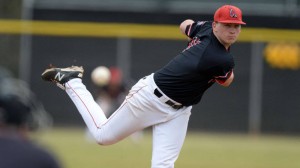 By Paul Gotham 
ROCHESTER — Seeking a bounce-back performance Ball State's Cardinals needed to look no further than their ace.
Scott Baker hurled a complete game as Ball State University defeated UB's Bulls 5-2 in Mid-American Conference action played at Tribune Field on the campus of Monroe Community College.
Baker improved to 4-2 on the season. The reigning conference pitcher of the year allowed two runs on four hits, striking out nine and walking two.
"I thought Baker was sensational," second-year coach Rich Maloney said. "That's what you need. He pitched like the MAC Pitcher of the Year he was last year. That's what we needed. In a big moment he came through."
The 6-4 right-hander retired the final 10 and 19 of the last 20 batters faced.
"My changeup was my better pitch today," Baker stated. "Against lefties I was starting with an outside fastball then I'd come back with a changeup."
Other than a hiccup in the third Baker faced two over the minimum in the other eight frames.
"It was a good to get the complete game and help our bullpen," Baker added. "After yesterday we used a lot of people."
With temperatures hovering in the 30s the day could have easily have been confused for the last week of February as opposed to the second week of spring.
Ball State's bats pasted pairs of runs on the board in the third and fourth stanzas.
Alex Maloney plated T.J. Weir with a one-out single to center in the third and scored two batters later on an RBI ground ball by Ryan Spaulding.
The win came just hours after the Cardinals dropped a 14-13 decision to UB – a game which the Cards led 8-0 and 13-6.
"You had a big lead and lost," Maloney said. "I told the boys 'this is going to test your character, right here. This is one of thosegames where all the momentum is on their side. They feel great winning a game they probably shouldn't have won.' Our kids answered the bell."
Ball State tacked on two more off UB starter Mike Burke in the fourth. Weir delivered Caleb Stayton and Sean Kennedy with a double in the left center field gap.
"We got some timely hitters," Maloney added. "Senior T.J. Weir came up with a big double that was a couple of runs."
Ball State added an insurance run in the ninth off reliever Anthony Magovney. Kennedy worked a one-out base on balls and eventually scored on an error.
Magoveny surrendered one run on three hits over five innings of work.
"We faced two really good pitchers," Maloney noted. "Burke and Magovney are really good. We won fair and square against their best versus our best."
UB knotted the game at two in the third. Tanner Robinson singled to start the inning, and Chris Kwitzer walked. Mike Scarcello moved the runners with a sacrifice bunt. Jimmy Topps and Nick Sinay followed with back-to-back RBI base hits.
Burke capped a dramatic comeback in the series opener with a one-out double in the bottom of the 11th scoring Kwitzer.
"We battled," UB coach Ron Torgalksi said. "We stayed with it. The good thing was we came out from the third inning on, and we scored every inning until the ninth."
With wind gusts up to 40 mph and temperatures dropping from the 50s into the 30s, the Bulls pulled within four in the sixth.
Tom Richards worked a bases loaded walk, and Matt Pollock crossed the dish when Burke reached on an error. Tyler Mautner capped the inning when he scored on Robinson's RBI groundout.
"It was good to get one," Torgalski said. "We played hard. We played with energy. It was great to get that first one. In any weekend series, you always want to get that first one."
The game was suspended because of darkness Friday evening after ten innings. The teams resumed play  noon Saturday.
"That was a freaky game," Maloney said. "The teams grinded it out though. I give Buffalo a lot of credit for battling it out after we had such a huge lead. I felt in the game that it wasn't over. I just felt it. It was in my gut."
Burke earned the win out of the bullpen. The senior hurled two scoreless innings for his third win of the season against one loss. In a strange twist, Burke's work in game one ended up being his bullpen session as he started and threw four innings in game two.
"It's a long season," Maloney stated. "That's what I told the boys when we lost that first one. In the course of a season you're going to have all sorts of games where you're going to win some where you probably shouldn't. And you're going to lose some you probably shouldn't. The true test of a really good team is staying the course."
"They've won seven or eight in a row," Torgalski said. "It's always good to beat a quality team and in conference, anything can happen in conference. If you can one or two every week, you have a chance to get to the conference tournament."
Kennedy rapped four hits in eight trips with two walks for the Cardinals.
Mautner went 5-10 with an RBI and two runs scored.
Alex Maloney had four hits and four RBI.
Ball State improved to 18-9/4-1.
UB is 11-9/3-2.
The weekend series was moved to the Monroe Community College campus when field conditions at Buffalo proved unplayable. UB alum and current MCC assistant coach Tony Fuller made the necessary arrangements.
Ironically, current Monroe head coach, Dave Brust is a Ball State alum. Brust was a two-time captain, MVP and All-Conference player for the Cardinals in the late 80s.  Brust and Rich Maloney were teammates in the Atlanta Braves system playing on the Durham Bulls during the early 90s.
"It's exciting," Brust told Ball State Sports Information Director and play-by-play man Joel Godett during an in-game interview." "Seeing the Cardinal on the hat and Ball State on the uniform running around the field is great."
The teams are scheduled to round out the series Sunday. A 1 pm first pitch is scheduled.