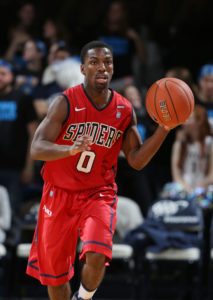 By Ryan Lazo
RICHMOND — St. Bonaventure's players and coaches knew they entered their match-up against the Spiders with a big advantage in the front court. They also learned just hours before tip-off, the Atlantic 10 Conference's third-leading scorer Cedrick Lindsey was ruled out for the season with a torn meniscus in both knees.
Lindsey's season-ending injury came just one day after it was announced Richmond would be without senior forward Derrick Williams as he left the program due to personal reasons. Without Williams in the front court, Bona aimed to attack the interior with reckless abandon from the opening tip.
And the plan worked to perfection as Bona scored their first 16 points in the lane and by halftime had a 26-to-4 advantage in the paint due to the work of Youssou Ndoye, Marquise Simmons and Chris Dees. However, the Spiders would find their footing late in the first 20 minutes, going on an extended 15-4 run to close the half and pull within five, 36-31.
The run would only continue in the second-half as the Spiders took their first lead of the game at the 13:24 mark on a Kendall Anthony reverse lay-up through the lane, and the Bonnies could never fully recover. Anthony nailed a game-winning jumper with 5.4 seconds remaining to cap his game-high 28 -point effort and Bona could not get a shot off on their final possession as they fell 64-62 in the Robins Center.
"I thought we played hard, but we didn't finish," St. Bonaventure head coach Mark Schmidt said after his team's fourth-straight road loss. "We missed some shots and they made some shots … We knew that Anthony was going to go off with Lindsey out. They made the plays and we didn't."
Bona  (13-9, 3-5) would have three chances to either win or tie the game over the final 93 seconds, but each possession ended with a clank off the iron. Following a shot-clock violation with a chance to extend a 62-60 lead, Ndoye was no match for the quick-lateral movement of the Spiders' (15-8, 5-3) Terry Allen as he span into the post and released a tear-drop over the Senegal native's out-stretched arms.
On the following possession, Schmidt called a timeout and drew up a play. Out of the inbounds, it was Charlon Kloof who took control of the basketball at the top of the key as Wright went off the left-wing and ran through a back-cut to find himself open in the corner. The senior sharp-shooter rose and fired, but it hit side iron before falling into the hands of Alonso Nelson-Ododa with 1:14 remaining.
However, Bona would force Richmond's Trey Davis into an off-balance fadeaway shot from the elbow before being corralled by Jordan Gathers. Again, Bona would draw up a play which featured a screen at the top of the key as Kloof dribbled his way into the paint before missing a point-blank chance for his sixth miss of the night on a 1-of-7 shooting effort.
Then, Anthony raced up the court before lifting himself up for what would be the dagger as Bona failures to execute in late-game situations continued as a red-hot shooting first 20 minutes at 61 percent gave way to a dismal 19 percent effort in the last 20 minutes.
"They switch everything with big guys on little guys and you try to take advantage of it," Schmidt said of the team's offense. "I thought we did a decent job with them taking away the 3-pointer by switching and we had some open shots, but we just didn't make them … you have to make them on the road."
Over the final 4:18 of game-action, Bona would shoot just 1-of-4 from the floor with the lone make on a spinning post-move by Dion Wright on two of his 6 points on the night to gain a short-lived lead.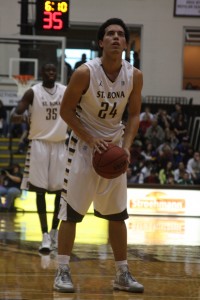 St. Bonaventure's road loss continues a troubling trend of poor play on the road where they are just 2-7 this season, making it more of a mental road-block rather than a string of bad play. Kloof tallied just 8 points on the night, but made his presence felt in other areas by dishing out eight assists and grabbing five rebounds.
Wright scored a team-high 17 points on 6-of-10 shooting, including 4-of-7 from 3-point range, yet he, too, finished the game without connecting on each of his final four shots. Even after Ndoye started the game 5-of-5 from the field, he misfired on his final five en route to a 15-point, seven-rebound effort.
"Our guys are productive," Schmidt said of his team. "They're playing hard, getting better. We're just not finishing. On the road you have to play that much better … We're not getting the buckets when we need them."
All of which makes the final four games in the Reilly Center absolute must-wins for a team which can no do right on the road.
"That's the whole thing, in the Atlantic 10 you want to win your home games and steal some on the road," Schmidt said of the Reilly Center. "We've done a decent job at home and hopefully we can do a decent job on Saturday."
St. Bonaventure returns home to play Dayton Saturday afternoon for a 4 p.m. tip on Homecoming weekend.
Ryan Lazo is the Sports Editor at The Hopewell News, covering eight high schools, Virginia State University and Richard Bland College. You can follow him on Twitter @ByRyanLazo