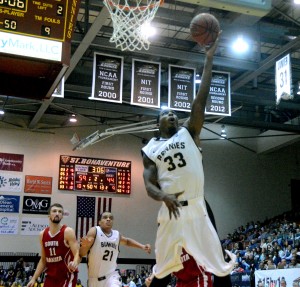 By Taylor Nigrelli
ST. BONAVENTURE, NY — Patience.
That's what sixth-year senior and men's basketball forward Marquise Simmons has learned in his 11 semesters at St. Bonaventure.
That's what a bout with cancer, a broken hand and a torn Achilles tendon taught him.
For what should have been his four years of eligibility (2008-2012), he faced major obstacles, worked for extended periods of time to return and then promptly reinjured himself, earning two extra years of eligibility in the process.
Simmons earned a scholarship to St. Bonaventure in 2008 after excelling at Central High School in Washington D.C. His plans to play during the 2008-09 season were derailed however when he was diagnosed with non-hodgkins lymphoma.
The disease forced him to miss the fall 2008 semester of school while earning a medical redshirt from the NCAA. This was Simmons' first lesson in stoicism.
"It was just something I had to be patient with," Simmons said. "I had to let it work itself out, and I was able to get there in January of that same school year."
Simmons enrolled at St. Bonaventure in spring 2009 and began playing basketball the next fall. During his redshirt freshman year, Simmons played sparingly early in the year. He began to garner slightly more playing time over the course of the year and averaged 12 minutes per game for the season. While he wasn't exactly heavily-featured, he saw more time than many first-year players see.
And then came another setback. Simmons broke his hand just before the 2010-2011 season was set to begin. He missed the first nine games and took another month or so to work himself into the rotation. It took Simmons until late January to re-emerge as a consistent contributor.
"It obviously set me back a little bit," Simmons said. "Once again, it was something that I had to deal with, be patient. I had to wait for my hand to heal and focused on staying in shape while I wasn't playing."
After establishing himself as an important contributor in 2010, Simmons was a projected starter for the highly-anticipated 2011-12 season. Two minutes into the first game, Simmons' season ended. The forward jumped to grab an offensive rebound and came down awkwardly. He left the game and would not return. He tore his Achilles tendon.
Working so hard to rehabilitate only to have his opportunity taken away from him just minutes into the first game had an effect on Simmons' perspective. He began to appreciate basketball more and continued to preach patience to himself.
"I had to deal with the situation I was going through, there was nothing I could do about it," Simmons said. "So, rather than complaining, I learned from it, and it made me a stronger person. That's why I appreciated playing so much right now because I know how it feels to have to sit out."
That year, the Bonnies rode star forward Andrew Nicholson's All-American-caliber performance all the way to an Atlantic 10 Championship and an NCAA Tournament bid. While Simmons was obviously happy for his teammates, not being able to play was hard on him.
"It was rough (not playing)," Simmons said. "That was a very special year. I played with most of those guys since my freshman year. So, to sit back and watch them win an Atlantic 10 Championship, it was obviously rough. But I was happy for everybody."
However, Simmons was able to gain valuable experience that season as he was able to sit and watch Nicholson and fellow forward Da'Quan Cook play. According to his Head Coach Mark Schmidt, this was key to Simmons' development.
"I think him sitting and watching (Andrew Nicholson) and (Daquan Cook) really helped him," Schmidt said. "You can play, but once you sit on the bench and watch, it gives you a different perspective."
When the 2012-13 season rolled around, Simmons had played only two minutes in the previous 20 months. And, all of a sudden, he was the oldest player on the team. He was forced to take on a leadership role while simultaneously getting used to playing again. He succeeded in both, working his way back into the rotation (averaging nearly 20 minutes per game) while impressing his coaches with his leadership ability and resolve.
"He had a lot of setbacks, but one thing he never did was quit, and now, he's reaping the benefits," Schmidt said.
In the past two seasons, Simmons has found his niche as a solid defender, rebounder and efficient shooter. He's among the national leaders this season with .648 field-goal percentage. Schmidt credits Simmons' efficiency to a solid understanding of his own skill set and basketball in general.
"He knows his game, he plays to his strengths," Schmidt said. "He can shoot that 17-to-18-foot jump shot, but he never tries to something he can't do. He's a team guy. He's only going to take the shots that he knows he has the opportunity to make."
Simmons didn't have an ideal start to his college career. But he believes all his hardships benefitted him in the end. Not only was he able to stick around long enough to help the Bonnies defeat a ranked team for the first time in 14 years, he was able to further his education. Simmons will graduate this May with a dual-major in journalism and mass communication and sociology – something he wouldn't have been able to do if not for his injuries.
Overall, both Simmons and Schmidt believe everything that happened, happened for a reason.
"If you face cancer, it's going to change your life and change your perspective," Schmidt said. "I think it really matured him. I think it made him appreciate life more. I think it made him appreciate what he has. It made him appreciate basketball."