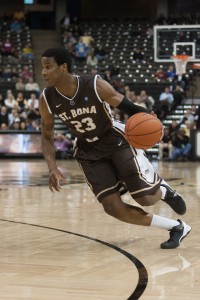 By Paul Gotham
What is it that they say about payback?
St. Bonaventure's Bonnies carry plenty of payback into Wednesday night's Atlantic 10 opener when the Richmond Spiders come to the Reilly Center.
A year ago the Bonnies were a team still in search of its identity when they went to the Robins Center. One season after NBA first round draft pick Andrew Nicholson led the Bona to the A10 title and the school's first appearance in the NCAA Tournament in more than a decade, the Brown and White logged a 4-6 conference record and 11-12 overall.
Figuring out how to finish games was the quandary.
There was the the seven-point setback to VCU. The the two-point loss to Xavier.
Before they traveled to Richmond, the Bonnies suffered a heart-breaking 69-66 overtime loss at home to eventual Sweet Sixteen participant La Salle.
SBU trailed Richmond by double digits last year when they mounted a comeback in the game's final minutes.
Jordan Gathers and Eric Mosley sparked the rally which Charlon Kloof sealed with a free throw sending the game to extra time.
It looked like the Bonnies had redirected their season.
Then Cedrick Lindsay and Greg Robbins combined for 11 of UR's 16 points in the extra period for an 83-80 Richmond win.
Identity found and quickly lost.
One year later, the Bonnies and the Spiders open conference play with 10 wins apiece. For SBU, winning at home to open conference play means plenty.
St. Bonaventure leads the conference in rebound percentage (56.1) and ranks third in points (72.7) and field goal percentage (47.2). Seven Bonnies score eight or more a game.
No one knows this better than Richmond head coach Chris Mooney.
"They've been great," Mooney said during this week's Atlantic 10 conference call. "They've been really good as far as rebounding the ball. They've scored at a very high rate…They have nice balance in terms of guys who can shoot threes."
The Bonnies come into Wednesday's conference opener undefeated at home and winners of their last three games.
Richmond fell at No. 12 Florida, 67-58 over the weekend – a game in which the Spiders led with 4:57 to go.
Richmond struggled on the road last year with 11 of their 15 setbacks occurring on their opponents' home court.
"What was frustrating last year was that we played well on the road," Mooney stated. "We were a possession or two away from having a good road record but weren't able to finish…Those are things we've been talking about and working on."
The Spiders are 3-2 on the road this year.
Richmond, with their matchup zone, leads the A10 in both scoring defense (63.7) and field goal percentage (.399), but the Spiders rank last in rebounding margin at -5.1.
Marquise Simmons (5.9) and Youssou Ndoye (5.8) lead a Bona team which is second in the A10 with a rebound margin of +6.
"They all seem to attack the ball and go after the ball and put a premium on rebounding. That's going to be something that is very important to us."
Matthew Wright (16.2) and Charlon Kloof (12.8 / 2.0 Assist/Turnover rate) pace the scoring for Bona. Newcomer Andell Cumberbatch scores 11.3 a game and has scored double figures on occasions with a pair of double-doubles.
Two of Richmond's five losses have come to ranked opponents with then No. 19 North Carolina beating the Spiders 82-72. Two of UR's other setbacks have been in overtime to Ohio (70-69) and at Wake Forest (76-66).
Lindsay, currently, is A10's second-leading scorer at 18.6 points and hands out 4.5 assists a game. Sophomore Kendall Anthony averages 13 and hits 38 percent behind the arc.  Terry Allen chips in with 8.9 points and 5.5 rebounds.  Alonzo Nelson-Ododa leads the Spiders with 5.7 boards and adds at 7.3 points.
St. Bonaventure fell at Wake Forest 77-62.
A 7 p.m. tip time is scheduled on Bob Lanier Court.
Paul Gotham is the founder, owner, editor and lead writer at Pickin' Splinters. Paul is the Communications and Media Director of the New York Collegiate Baseball League.  He is a contributor at USA Today and member of the USBWA. You can follow Paul on Twitter @PickinSplinters.