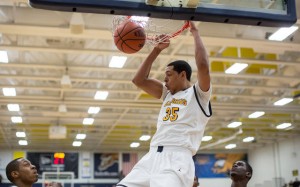 By Paul Gotham
BUFFALO, NY – Jordan Heath notched his third career double-double as the Cansius Golden Griffins opened Metro Atlantic Athletic Conference play with a resounding 82-67 victory over the St. Peter's Peacocks Friday night at the Koessler Athletic Center.
Heath hit 11-of-17 from the floor including 4-of-6 behind the arc and added a pair of free throws for a career and game-high 28 points. The 6-10 forward displayed his full arsenal finishing around the basket, hitting mid-range jumpers, nailing threes and sending home thunderous dunks.
"We did get it inside," commented Canisius head coach Jim Baron. "We wanted to make a conscious effort to try and do that. It just takes a lot of the pressure off our guards."
Heath scored his first points of the game when he took a hi-lo pass from Billy Baron and finished at the rim. His baseline catch-and-shoot jumper gave Canisius a 13-9 edge. When St. Peter's went zone, he found a seam at the free throw line and hit a jumper.
Late in the half the senior tallied 10 straight Golden Griffin points. He put three-point bookends around a pair of baskets in the lane where he took advantage of his size.
"We've been talking about getting the ball in and really being physical," explained Jim Baron. "Jordan is 6-10, so we want to try to take advantage of that hi-lo situation. We've made him go inside, and I just told him you got to be a man-child. You got to post up like a man-child, and you got to dunk it."
Heath did just that when Dominique Raney led him with an alley oop for an emphatic two-handed slam to give Canisius a 47-36 with 17:24 to go.
"All week coach kept telling me 'to post up,'" Heath stated. "He told me 'they're going to get me the ball, so that's what I tried to do today.'"
From that point forward, St. Peter's never managed to creep closer than nine points. Canisius eventually stretched the lead to 15 when Chris Perez hit an acrobatic runner in the lane for a 71-56 bulge.
Canisius scored eight straight late in the first half to take its largest lead of the first twenty.
When a pair of St. Peter's defenders overplayed a double team on a ball screen, Billy Baron found Josiah Heath open in the lane for an easy lay-in. At the other end, Baron converted a Zach Lewis steal and led Perez into the open floor for a layup and foul. Perez completed the three-point play for a 32-23 Golden Griffins advantage. Jordan Heath pushed the lead to double digits when he drilled a three.
Chris Manhertz scored six points early as Canisius jumped St. Peter's. Manhertz took a feed from Dominique Raney and finished at the rim. The senior forward hit 4-of-4 free throws, and Jordan Heath took a hi-lo pass from Billy Baron, and the Griffs had a 10-6 edge.
Manhertz finished with 13 points on 3-of-6 shooting and 7-of-8 at the free throw line. He added six rebounds.
Billy Baron came into the game ranked 31st nationally with 21.5 points per game. The senior point guard managed just nine points against St. Peter's. He handed out seven assists while committing zero turnovers. His assist total more than doubled his number of made field goals for the game (3).
"Billy Baron was excellent finding his teammates," said St. Peter's head coach John Dunne. "He was a true leader, a senior point guard. He showed it today how good he is. He doesn't need to score points to obviously have a huge impact on the game."
Marvin Dominique also notched a double-double to pace St. Peter's. The redshirt junior scored 25 on 9-of-13 shooting. He added 10 boards. Trevis Wyche handed out six helpers.
Canisius entered play forcing 16.8 turnovers per 100 possessions. St. Peter's committed 13 miscues Friday night which Canisius converted into an 18-11 advantage in points off turnovers.
The Griffs outscored St. Peter's in the paint 38-30, on second chance points 13-11 and on the fast break 10-8.
Zach Lewis hit a pair of threes and finished with nine points for the Blue and Gold.
St. Peter's outrebounded Canisius 36-30.
The Griffs dished out nine assists on 14 field goals in the first twenty while committing just three turnovers.  Canisius finished with 16 assists on 29 field goals and just six turnovers.
"We talk about making the extra pass," Jim Baron noted. "Our guys did a great job with that. We penetrate, and we kick…our guys are very unselfish."
This is a good win for us, but now we got to carry it over."
Canisius continues MAAC play when Siena comes to the KAC, Sunday afternoon. The Saints defeated Niagara, 84-71. A familiar face will accompany Siena. Former Loyola head coach, Jimmy Patsos, now roams the sidelines for Siena.
A 2 p.m. tip time is scheduled at the KAC.
Paul Gotham is the founder, owner, editor and lead writer at Pickin' Splinters. Paul is the Communications and Media Director of the New York Collegiate Baseball League.  He is a USA Today Contributor and member of the USBWA. You can follow Paul on Twitter @PickinSplinters.