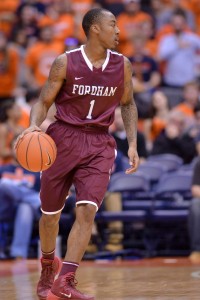 Playing zone defense keeps tight rotation on floor for Fordham
By Joe Manganiello
BRONX, N.Y. — Sophomore Jermaine Myers made his second consecutive start for the Rams, playing 29 minutes and adding three assists in the 79-75 victory over Manhattan. He is arguably the Ram that has most benefited from a depleted roster, as Fordham has seen junior Ryan Canty leave the program, and junior Bryan Smith has missed time with an injury. (Also freshman Antwoine Anderson has yet to debut for Fordham due to an injury – Anderson figured to be one of the team's most promising defensive players.)
Last week, Fordham used eight players in a loss to Sacred Heart. Despite foul trouble on Tuesday – every Rams starter collected at least three personal fouls – head coach Tom Pecora got a road victory in a long-time rivalry game with just seven players. By using the 2-3 zone as his team's primary defensive set, Pecora is keeping his best players fresh throughout the game, and keeping them on the floor.
Senior guard Branden Frazier (21 points, 12-13 FT) and sophomore Mandell Thomas (17 points and 10 rebounds) played all 40 minutes, and the team's leading scorer, freshman Jon Severe (30 points), played 37 minutes. Sophomore Ryan Rhoomes started down low, playing 24 minutes and anchoring the defense. He came in and out with junior Travion Leonard, who played sixteen minutes.
And Myers shared time with junior guard Chris Whitehead, who played fourteen minutes – Whitehead shared the backcourt with Myers for the three minutes Severe missed. Guarding a spot on the floor in the zone as opposed to chasing around a man keeps players' legs fresh over the course of a game. With the current roster – both undersized and thin – Pecora is going to find that most match-ups will call for a healthy amount of zone.
The zone also lends itself well to the playing style of the Rams up-tempo team. The chasers up top (Severe and Myers/Whitehead) are releasing after long rebounds and on turnovers, creating fastbreak opportunities on offense. Fordham's three best offensive playmakers (Severe, Frazier, and Thomas) all have been successful in transition this season.
Frazier, who also had five assists on the night, is a very skilled player in semi-transition. He does a good job of reading the opposition early in the shot clock, to see if they are sleeping or not. Several times on Tuesday, Frazier approached the ten-second line slowly after a Fordham defensive rebound, and fired over the line toward the basket (hence "semi-transition") once he saw an angle to the paint. This type of play leads to assists to cutters and spot up jump shooters, as well as trips to the foul line when an isolated defender is left to foul Frazier.
Severe is super aware of how to create the shot he wants in most situations. If Frazier starts the fast break, Severe reads the floor well enough, most of the time, to know if he should fill a lane to the basket or spot up from the wing. He is very good at drawing contact, both in the paint and on jump shots – he was fouled on three jump shots in the first half, and on two three-point shots, much to the chagrin of the Manhattan crowd. When his jump shot is on, Severe will look to catch the ball in the corner and draw a single defender out with him. He'll then square the defender up and decide if he has enough space to shoot, or if the defender is close enough for him to blow by him to the basket. Severe's ability to rise above the outstretched arms of perimeter defenders at this level is special, as he went on to score 22 points in the first half.
His lack of height can sometimes cause problems on contested drives or when facing good weak side help defense – Manhattan senior Rhamel Brown finished with nine blocks, many of them on Severe cuts to the right side of the basket – but he does an excellent job, for a freshman, of absorbing contact and getting to the line, earning thirteen foul shot attempts against Manhattan.
Thomas is only 6-foot-2, but is such a strong finisher at the basket, particularly on the left side, that he seems to be a favorite target for Frazier. He also has been effective as a spot up shooter on the fastbreak, especially when teams get used to him filling the lane toward the rim, only to find him wide open from three in transition.
Of course, when discussing a team's choice to play zone defense, discussing their defense is important. And so far they've played pretty well. As the box score from Tuesday makes painfully obvious, they forced Manhattan to take (a) far too many three-pointers and (b) a lot of shots they didn't want to take, or that they settled for. Fordham was strongly out-rebounded in the first half, but actually won the battle on the glass in the second period. The Rams didn't force too many turnovers (nine) but also didn't turn the ball over much themselves (eight), and despite giving up the edge in blocks to Brown and the Jaspers, it was Fordham that made most of the game's most important stops.
That's good for this early in the season. It's important to note, though, that a better shooting performance from Manhattan could have wrecked the victory for Fordham – the Rams only won by four points. Fordham switched to the zone defense against Lehigh earlier this month after a first half of terrible perimeter defense, as the zone is supposed to make it more difficult to enter the lane. However, the Rams, even in the zone, can get too complacent with guards with above-average dribbling and intentions of driving to the basket.
As I explained earlier today, Manhattan had success when screening Fordham's chasers, and that's a formula other teams will employ until Severe proves he can hold his ground. Right now Severe is learning where to be on the floor in a zone defense, and that takes time, but teams are going to pinpoint the freshman until then.
And it's not just Severe. This Fordham team has two actual forwards, and a third player (Thomas) who is being asked to play much bigger than he is. Otherwise it's a team full of guards, and at this level, teams are smart enough to know what to do against small teams. Zone or not, teams are going to find a way to post Fordham up. It's their job to make it as difficult for opposing teams to get into the lane as they can, and force them to live and die on the perimeter.
Joe Manganiello (@joemags32) is a staff writer for pickinsplinters.com. He was published in the 2013-14 USA Today Sports College Basketball Preview. He studied journalism and cinema at Oswego State University – Peace, love, recycle and ball.