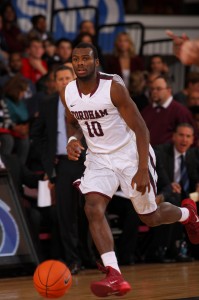 Severe is strong in Battle for Bronx.
By Joe Manganiello
Bronx, N.Y. — In an early-season battle between Bronx rivals, the Fordham Rams claimed their first road win of the season at Manhattan College on Tuesday night, 79-75.
Fordham's freshman standout Jon Severe finished with 30 points, and senior Branden Frazier added 21 points and a pair of crucial free throws late to ice the game. Fordham (3-2) is once again over .500 after a disappointing loss at home to Sacred Heart on Saturday.
Manhattan (3-2) trailed the entire first half, but took its first lead of the game early on in the second half with the help of its leading scorer, senior George Beamon. After scoring just seven points in the opening period, Beamon finished with 24 points and 11 rebounds, including an impressive 8 for 9 from the foul line.
The Jaspers were pesky the entire first period, always within a big play or two from taking the lead, thanks in large part to a 24-17 first-half rebounding advantage and three three-pointers from sophomore Shane Richards. Fordham took just a 43-39 lead into the half despite shooting over 53 percent from the field and 62.5 percent from behind the arc.
The Rams got a huge effort from sophomore Mandell Thomas, who finished with 17 points and 10 rebounds. Severe, Frazier and Thomas combined for 68 of the team's 79 points, and Frazier and Thomas paired up for five steals and six assists.
Severe scored 22 points in the first half, but was held scoreless for much of the second. When the game mattered the most, however, the Rams leaned on its talented first-year player, as Severe hit a critical three-pointer with 4:39 remaining to tie the game at 70.
Frazier took over the game from that point, giving the Rams a lead it would not relinquish with 59 seconds remaining on a driving lay-up. He all but sealed the victory on a pair of free throws with 20 seconds left, and added a late assist on the game's final bucket, a thunderous assist to sophomore Travion Leonard.
The Jaspers travel to Hofstra on Saturday, November 30. The Rams return to action next Wednesday, December 4, as they host Furman University.
Joe Manganiello (@joemags32) is a staff writer for pickinsplinters.com. He was published in the 2013-14 USA Today Sports College Basketball Preview. He studied journalism and cinema at Oswego State University – Peace, love, recycle and ball.