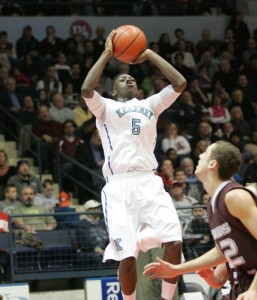 Rams ready for fresh run
Severe, Anderson look to begin new chapter at Fordham, put school back on New York's map.
By Joe Manganiello
Antwoine Anderson burst out for 32 points in the semi-final of the Federation Tournament of Champions, and it wasn't even the story of the game.
It's not often, after all, that the best player on the most elite team in the state scores 21 points in the first quarter en route to a two-game tournament scoring record.
That was the story that night, the next day and for weeks to follow.
And so it was that very few held on to Anderson and his performance beyond the next morning's newspapers, with arguably the most prominent exception being Mr. New York State Basketball, the same player who got the better of Anderson on the floor that night in March.
______________________________________________________________________________
Bishop Kearney High School pieced together a terrific season in 2012-13, winning eight games in a row to secure a New York State Public High School Athletic Association title. The Rochester school had a fair blend  of next-level talent (Syracuse Orange redshirt freshman Chinonso Obokoh and Thomas Bryant- ranked as a top 15 recruit by ESPN), which leaned on the accomplished, well-respected head coach Jon Boon – in what would come to be his final season with the school ending a run which included seven sectional titles and a pair of state championships over his nine seasons.
Boon's bunch began the season just 5-8, including three losses out of state. This was actually a good thing according to Boon's best player, as Anderson believes being battled tested out of the comforts of western New York helped the team grow up a lot.
The team's two-time captain – also the All-Greater Rochester Player of the Year – Anderson had a steady presence on both ends of the court for Bishop Kearney. He averaged 16 points, four rebounds and four assists per game, and was named a Second Team Class AA All-State selection.
While he's not the biggest player, one does not have to watch Anderson play for long before noticing his stand-out potential. It's his foot speed, and also his control; Anderson moves so naturally on the court, whether it be forward, backward, side-to-side or up and down.
But Anderson is a virtual unknown outside of his city; he was unranked as a prospect by Rivals, ESPN and Scout.com. It's unclear why exactly the speedy, left-handed guard never passed the test for these acclaimed recruiting websites. (To end any speculation that it could have been a question of character right where it stands, read these glowing remarks from Matt Spadoni about Anderson's constant smile).
Regardless of whether Anderson took this sentiment into the semi-final on March 22 or not, there was undoubtedly room to prove himself in the biggest game of the season, and while matched up against the best basketball player in the state.
______________________________________________________________________________
Fordham University is one of those schools that appears to be a sports anomaly, or at the very least, an improbability. Despite being an acclaimed university located in the country's largest city, Fordham has experienced a strikingly small amount of tangible success, whether the marker be in total wins, conference titles or national tournaments.
The Rams haven't played in an NCAA tournament game since 1992, then as a member of the Patriot League. Since it joined the A-10 in 1995, Fordham has almost exclusively floundered, all too often playing the doormat to the conference's major players. For most incoming college basketball prospects – and anyone else around 18-years-old or younger – Fordham has been a bottom dweller in the A-10 over the entirety of their lifespan.
It's no coincidence then that the Bronx-based school struggles to sign major high school talent (both out of New York City or anywhere else), and as a result, the school has gone 8-72 over the last five years in conference play.
To his credit, fourth-year head coach Tom Pecora has inspired some gradual improvement. While they have finished in the bottom two of the conference twice over his first three seasons, the Rams did snap a 41-game conference losing streak under his watch – the majority of those losses were inherited – and have won six conference games over the last two years.
Nevertheless, snapping a losing streak that was measured in years over days is evidence enough of where the program is today, and the work that remains to be done.
This was why most of college basketball was shocked to learn Jon Severe turned down basketball scholarships from about a dozen ACC and SEC schools, choosing instead to sign a letter of intent to play for Pecora and the Rams.
The same Severe that was ranked as the No. 1 shooting guard in New York by ESPN, a Top 150 player overall by Rivals and named a Parade All-American was going to attend university for what's been traditionally an after thought in a mid-major conference.
The backlash has been what he expected, but Severe's commitment to Fordham remains unwavering.
"I wanted to find a school that fit my style," Severe said. "Fordham was a better fit than the (other) schools recruiting me because it was a better situation for me. Coach Pecora is cool, and it's closer to home."
The Brooklyn product averaged 21.6 points per game for Christ the King, as the school won the diocesan, city and state Federation Class AA titles. Known for his sensational jump shot, Severe hit 40 percent from three-point land last season, as he topped the 1,100 point mark for his high school career. Severe was selected to play in the Jordan Brand Classic at the Barclays Center Arena, where he scored 16 points and dished out five assists in a win.
"All my life I've been winning," Severe said.
This is the type of player who hasn't ended up at Fordham, not historically and certainly not recently. Most who follow the A-10 were penciling in Fordham for another below .500 basketball season this winter before Severe committed to them. But Severe looks at his school's uphill battle to relevancy through a simple (if not sophisticated-beyond-his-years) lens.
"That was last year's team (that finished at the bottom of the A-10)," Severe said. "This year is a totally different season."
______________________________________________________________________________
St. Bonaventure travels to the Bronx to play against Fordham on February 12, 2014. The Bonnies will be looking to exact revenge against the Rams for ending their season with a loss a year ago.
Yes, even for the Rams, there are occasional moments of triumph.
Perhaps a bit ironic, then, is the relevance and influence one of the greatest basketball players in St. Bonaventure's history had in Severe landing with Fordham, making it much more likely that Fordham will come out ahead against St. Bonaventure a bit more regularly starting in February.
Shandue McNeill was inducted in the school's Hall of Fame in 2008 for defining an era of basketball for the program. The 5-foot-7 point guard ended a dozen-year drought from post-season play, leading the Bonnie's to the NIT tournament in 1995. McNeill was the first player to lead the team in assists for four consecutive seasons; when he graduated from the team at the end of the 1996-97 season, he held the program records for assists (616) and steals (281), and he was a 1,000 point scorer.
McNeill's individual accomplishments as a ball player are spectacular, but in the years since his final game with the Bonnies, he has vocalized regrets on not making a larger impact on the culture of the program and, more specifically, on not winning more games.
After all, St. Bonaventure missed out on post-season play all together in McNeill's other three seasons – the program made the NIT again in 1998, the first season following his graduation – and has made the more prestigious NCAA tournament just twice since 1978.
For all his ability, McNeill never actually came all that close to playing in an NCAA tournament.
Now the director of the New York Lightning AAU program, Severe's AAU basketball team, McNeill is surrounded each year by talented young basketball players with a world of choices in front of them. While Severe was in the process of making his college decision this past spring, McNeill was quick to lend the advice that, perhaps, he wished someone gave him 20 years earlier.
"I talked with (McNeill) about going somewhere I'd have freedom on the court, and not be stuck in a system," Severe said. "Playing time and style of play were huge factors for me."
While everyone outside Severe's camp hooted and hollered about the offers from the Pittsburgh's and West Virginia's and Boston College's of the hoops world, in McNeill, Severe had a mentor who had walked in the same shoes.
"(McNeill) told me not to go (to Fordham) by myself, and not to think I'm better than the conference or the whole thing," Severe said. "And so I want to recruit, bring New Yorkers (to Fordham), bring more people here to change this program."
______________________________________________________________________________
"(Coach Boon) told me they had a guy who is going to get his and put the ball in the basket," Anderson said.
As social media makes the world seem smaller and smaller, it's almost refreshing to hear that two basketball teams, somewhere under the sun, can walk onto a court and tip-off without hardly knowing a thing about each other. Proof, perhaps, that life's events don't always have to seem so preordained; that a moment can occasionally, if only briefly, feel absolutely new.
Boon's pre-game summary of Christ the King's star guard came true, of course – Severe had scored 30 points by half-time – leaving Bishop Kearney behind most of the game.
Pride does play a large part in athletics, in wins and in losses, and it was Anderson, the captain, the team's best player, who took it upon himself to try and slow down Mr. New York State Basketball.
"In the second half, I was just trying to stop him," Anderson said.
Severe did, in fact, cool down in the second half, adding just ten points to his game-high total. Severe finished with 40 points, and Christ the King took the contest, 68-55. Severe scored 28 points in a win in the tournament's championship game, and his 68 combined points is the highest two-game mark in Federation Tournament of Champions history.
Although Christ the King won convincingly against Bishop Kearney, it was not lost on Severe the difference between scoring against Bishop Kearney's team defense and dealing with Anderson's direct attention in the second half.
The two players sought out each other after the game, and their conversation moved quickly. Severe asked Anderson if he had committed to playing anywhere. When he told him no, Severe brought up Fordham, somewhat to the surprise of Anderson.
"I actually applied to Fordham academically before I considered playing here," Anderson said. "I was really thinking about Boston University, Quinnipiac and Niagara. Fordham never really came to my mind until January, when my high school team started playing more teams out of state and the coaches from Fordham started talking to me."
With a common understanding of what was important to the other, the two exchanged numbers and vowed to keep in contact over the coming weeks.
"Jon and I knew we were coming to Fordham about three or four weeks in advance of (Jon's) announcement," Anderson said. "We kept checking in with each other and calling each other. We both are coming here to play and be competitive."
______________________________________________________________________________
Back on the court and gearing up for a season that's fast approaching, Pecora is pushing the Rams hard on the defensive end. He knows his team gave up a lot of points last season – the Rams were dead last in the A-10 a year ago in scoring defense and scoring margin – and if his team isn't stretching, watching film or shooting free throws, it's probably because it's working on the defensive end.
Pecora stresses little things – such as taking the initial step on close-out plays with the leg closest to the shooter – because he knows it's a half-second that can be the difference between a stop or giving up three points.
And for a Rams team that finished second-to-last in scoring offense last season, Pecora knows they can't afford to give away free points to the other team.
Pecora has his players practice back pedaling on defense with a classic basketball drill: one offensive player dribbles the length of the court while one defensive player, with his hands behind his back, must stay in front of him using only his legs. The drill demands a wide base, quick feet and proper angles; when a defender isn't allowed to use his hands, it doubles the workload of the lower body.
Anderson, who most likely can still count the number of official Division 1 practices under his belt on his hands at this point, is paired up against heady junior guard Chris Whitehead. When Anderson has the ball, he takes it slow; while his eyes are up and his moves are crisp, it's detectable that he frets being "that freshman" and losing control of the basketball. Then Whitehead takes the ball, and Anderson turns to face him, placing his hands in a relaxed knot behind his back.
Anderson is very much in his natural habitat.
Staying in front of Whitehead the whole way, Anderson glides backward, moves side-to-side with ease. It's like watching a street corner artist draw a complete stranger's face; he's at peace, he's confident.
As significant an impact Anderson seems primed to make on the defensive end over the next four years for Fordham, Pecora and his coaching staff know better than to applaud a freshman for doing what he's supposed to do.
Brilliantly, even a bit understatedly, Pecora is in Anderson's ears the entire way up the floor:
"You got to be great at this, 'Twon! … You should be great at this! … Slide 'em 'Twonny…."
Only after Whitehead hands the ball to an assistant coach, retiring his dribble, does Pecora finally let a "Good, Antwoine" escape his lips.
______________________________________________________________________________
Fordham won seven games in total last season, and just three games after New Years. Daunting, in a word, is the loss of last seasons's leading scorer Chris Gaston, which leaves a 6-foot-7 hole in their offense as well as in their rotation at forward.
With that said, the Rams will most likely be better this season.
The Rams are returning seven players who saw significant time last season. This includes senior guard Branden Frazier, who was just named pre-season Third Team All-A-10 after averaging 14.2 points and five assists per game last season. (A couple Fordham trainers said that Frazier is steaming angry about the Third Team selection, considering it an insult, and that his numbers from a year ago are indication enough that he is one of the best players in the entire conference. Watch his effortless jump shot long enough and you can see why he's peeved.)
Across the board this team can flat out shoot. Beside Frazier and Severe, junior Bryan Smith and sophomore Mandell Thomas combined for 74 three-pointers last season, and should be even more involved on the perimeter this season as the roster is built to feature its strong guard play.
In a five-on-five scrimmage, the lineup of Frazier, Thomas, Smith, Jake Fay and Ryan Rhoomes outscored a second-team lineup, 19-2, with near-perfect shooting over 12 minutes. After a water break, the same five-on-five lineups squared off again, and Frazier's team won 16-2, with the same fast breaks and perimeter shooting.
Funny enough, the most important piece to Fordham's season couldn't be found on the court during the scrimmage. Held out for precautionary reasons, Severe was restricted to watching his teammates play from a stretcher's table. As the shots kept falling and falling, it became harder for Severe to contain himself. At first, he let out many a "Good shot, boyyyyyyyyyy!" and "Knockdown, knockdown" as his teammates scorched the nets.
When cheering wasn't enough, he began dribbling multiple basketballs. He even got involved in bandaging up teammate Khalid Robinson's cut lip, helping the same trainers that had been working on him throughout the practice by handing them some tape.
With all due respect to Severe, it was not lost on bystanders that at the root of Severe's helpfulness was him jonesing for something to do. Severe was bored.
It's hard to blame him; he's not wired to sit and watch on this Fordham team. From the moment he signed to play for Pecora, he has made it very clear he wants a hands-on roll in turning Fordham into a winner. (To Severe's credit, when trainer's cleared him to shoot free throws with the team at the end of practice, the unofficial count pegged him as the best on the team.)
Possibly the largest question about Severe entering this season is in regard to his role, and how large will it be. People outside of the program want to play a number's game, they want to guess how many points Mr. New York State Basketball can score every night for the Rams.
15? 20? No, no, this is Jon Severe. He's trying to score 30. That's why he picked Fordham, right? So he can take all the shots. He's going to get his… He's going to score points… He's…
Severe has been hearing it ever since his decision in the spring.
"I'm looking to play to the offense," Severe said. "I hear people tell me all the time that I should score 30 points a game. You don't need '30'. You don't need any number. There's no pressure to score. You just need to know what to do."
______________________________________________________________________________
Possibly the only negative takeaway from the upperclassmen's beat down in the pair of scrimmages was having to watch Anderson's face the entire time while it was happening.
After each basket of the combined 35-4 butt-whooping Anderson's team was handed – for the record, most of the points scored seemed to be on the weak side perimeter following long skip passes away from him – a look of absolute grimace passed over Anderson's face. But it's imaginable there will be plenty of moments like this during the season for Anderson, moments where the true freshman is surrounded by the frustrations of still learning, still improving, and not always winning.
It's this quality, this reluctance to lose for which Fordham has longed. It might even be what Severe saw on his now teammates face after Christ the King beat Bishop Kearney in March, and why he felt compelled to take up conversation with Anderson after the game.
Anderson's not a finished project – he's going to need refinement on the offensive end, to find a way to turn all of that athleticism into something more useful against collegiate defenses – but, then again, he is the project. Anderson, after all, isn't just another Fordham recruit for Tom Pecora, but he's Jon Severe's first recruiting success as he attempts to put their team on the map.
"I want to get on the floor and be a defensive pest," Anderson said. "With my quickness, I know on offense I can get in the paint and dish out to our shooters. We have a team that can win the A-10s and make the NCAA tournament."
This year isn't about Severe, or Anderson, but about Fordham. It's about what Severe decided he wanted for his legacy as a college basketball player. And after scoring 40 points against his team and seeing the fight to the final whistle from Anderson in March, it's what Severe knew Anderson wanted his legacy to be about as well.
_____________________________________________________________________________________________
Assistant coach Tom Parrotta yelled and stopped the players on his end of the court. He knew they were tired, but he couldn't watch the defenders dogging it for another moment.
With every pair of young eyes on him, he first pointed to the 1992 NCAA tournament banner hanging in the rafters, then to the flags of all the rival A-10 schools.
"All of those teams are going to play a lot harder than you guys are right now," he said.
He knew they were tired, of losing.
Joe Manganiello (@joemags32) is a staff writer for PickinSplinters.com. He was published in the 2013-14 USA Today Sports College Basketball Preview. He studied journalism and cinema at Oswego State University – Peace, love, recycle and ball.