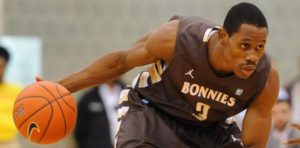 By Paul Gotham
St. BONAVENTURE, N.Y. – Give the St. Bonaventure Bonnies credit. They don't dwell in denial.
When Demtrius Conger (14.3), Chris Johnson (12.6) and Eric Mosley (13.2) graduated last year, they took with them 40 points per game – more than half of SBU's output. None of the returning players averaged double figures.
Mark Schmidt and his players know this well, and they are not trying to hide it.
"We're going to have to fill a void offensively. With Demitrius, Chris and Eric graduating 60 percent of our scoring came from them," Schmidt said during last week's Big 4 media day at the First Niagara Center. "We lost a lot offensively, so it's going to be a situation where the younger guys will have to go from role position guys to go-to guys."
Schmidt will look to Jordan Gathers, Charlon Kloof, Youssou Ndoye, Marquise Simmons and Matthew Wright to provide points for Bona.
"Those five guys have to play consistently good," Schmidt added. "Our backcourt, with Charlon and Matthew and Jordan they have to play really well for us to be successful Youssou Ndoye has to take that next step in the development of being our go-to guy on the inside. Marquise Simmons is back, and he is going to bring us that physical presence."
The returners are looking forward to the opportunity. If things go as Charlon Kloof suggests, the Brown and White will have an element of surprise to their attack in 2013-14.
"The X-factor is always going to be different," the senior guard said after a recent practice. "You're never going to know who's going to be that guy who explodes for 20 or gets a lot of boards. That makes it complete. We're trying to build an identity. With that identity comes the X factor, somebody that always helps. That somebody that will always help is going to be somebody different every time or multiple people."
Kloof averaged a little more than five points per game last season, but he has flashes of dominance in the past. As a sophomore he scored 13 a game in a three-game stretch as the Bonnies captured the Atlantic 10 title. Wright dropped 22 at Temple and followed that with 18 against St. Joseph's a year agao. Ndoye notched a double-double (14 points, 14 boards) at North Carolina State. Simmons turned in double-double performances versus Siena (12 and 10) and Niagara (12 and 12). Gathers hit all seven of his field goals attempted for 18 points at Richmond.
Now this quintet needs to show they are capable of more than just flashes.
"They are smart guys. They understand what they need to do for us to be successful," Schmidt added. "Those guys are guys who can put the ball in the basket. They just have to do it on a consistent basis."
This is not unfamiliar territory for Schmidt and the Bonnies. Johnson and Mosley accounted for just 6.4 and 6.6 points per game respectively during their junior campaigns. The question of production loomed large last year with the graduation of NBA Draft Pick, Andrew Nicholson.
But offensive production wasn't the problem last season. The Brown and White increased their output from 71 to 73 points per game.
Again players and staff aren't hiding from this fact.
"We scored the ball really, really well. In fact we scored the ball better last year than we did two years ago, but we didn't defend, and we didn't rebound as well as we needed to," Schmidt noted. "Those are the two areas we have to improve on if we want to be successful. We have some long, athletic guys who can do a good job defensively and do a good job on the backboard. It's a mentality. It's something we have to work on every day."
After holding opponents to 65 ppg with a field goal percentage of 41.7 including 32.6 behind the arc and a rebounding margin +5.5, the Bonnies surrendered 72 points per contest in 2012-13. This came as the result of opponents hitting 45 percent from the floor and 37 percent from long range. Bona also registered a negative rebounding margin of -1.1.
"Defense, rebounding even overall size is what we lacked last season. I think we addressed that in the off-season. We went out and got guys with length," Wright commented after a recent practice.  "We have to get that mentality of being a defensive-minded team. For defense, it's all heart. It's a mentality to want to lock down and defend every possession. You can have all the fundamentals of a good defensive team, but it's all about heart. It's all about discipline."
Kloof again referred to SBU's strength in numbers.
"We have a lot of length, speed and strength. The best way to put that together is by communicating, talking on defense and ball pressure. We have a lot of athletic guys, so we can pressure the ball more this year.  Defense is what we're going to go off. You can only run if you get stops. It takes longer to get the ball out of the basket and then run, so we try to emphasize getting stops every time."
The Bonnies open the season on Saturday, November 9th when South Dakota comes to town. A 7 p.m. tip time is scheduled at the Reilly Center.