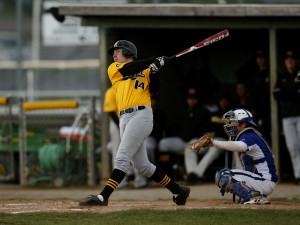 By Paul Gotham
Rochester, NY – The Monroe Community College baseball team has been making the most of their final at bats lately. Saturday afternoon was no different.
Brad Kaczka (Pittsford, NY/Pittsford-Sutherland) drilled a two-out two-run home run in the Black and Gold's final hacks as the No.14 MCC Tribunes (21-9/5-1) took a pair come-from-behind victories (12-5/3-2) from the Mercyhurst Northeast Saints (21-13/3-3) in WNYAC action at Tribunes Field.
Kaczka plated Angel Rosario (Bridgeport, CT/Bullard Havens) with his second home run of the season as the Tribunes erased an early two-run deficit to take a commanding lead in the conference race.
"It was a fast ball a little up and in," Kaczka said. "Honestly, towards the end of the game, I was just starting to see the ball a little better. My first couple of bats I wasn't picking up the ball real well."
The sophomore infielder accounted for all of Monroe's runs in the nightcap as the Tribs needed just two hits for the win. He nearly beat Mercyhurst's centerfielder with a deep fly ball in the fourth. On the catch, Rayshelon Carolina (Willemstad, Curacao/St. Jozef) tagged from third and scored.
"My swing has been a little long today," Kaczka explained. "On that pitch I choked up a little bit."
Zack Melino (Rochester, NY/Gates-Chili) went the distance for his third win of the season. The right-hander struck out six while allowing just one walk.
"This was a big accomplishment," Melino said of the win. "I had to keep them to the minimum. That last inning I was amped. I was just hitting my spots."
After allowing two runs on three hits in the third, Melino settled down and retired 12 of the last 13 he faced.
"This puts us on top of the conference," the sophomore added.  "We need that one seed going into the Regionals."
The Tribs tallied 12 runs in their two final trips to the plate in the opener.
Down three in the fifth, the Tribs strung together five hits to take the lead.
Brett Sanders (Greece, NY/Greece Olympia) worked a one-out walk. Rosario singled, and Carolina cleared the bases with double. Kaczka followed with another two-bagger bringing home the speedy Carolina. Vinny Bomasuto (Dunkirk, NY/Dunkirk) added to his club record with another triple scoring Kaczka. Spencer Scorza (Penfield, NY/Penfield) capped the inning with a run-scoring base hit.
MCC batted around and put the game away with seven in the next and final at bat. After Carolina delivered a bases loaded sacrifice fly scoring Danny Mendick (Pittsford, NY/ Pittsford-Mendon), Bomasuto and Scorza had back-to-back RBI hits. AJ Kehlenbeck (Oakfield, NY/Oakfield-Alabama) and Cameron Scalzo (Webster, NY/Webster Thomas) followed with their own run-scoring hits as the Monroe added to its advantage.
"Two big ones," said sixth-year head coach Mike Kelly. "We just figure out how to win games. For a manager they're not easy to watch early, but the way we finish always make it a little bit easier."
Jimmy Gutowski (Rochester, NY/Gates-Chili) struck out three and walked three for the complete game victory.  The right-hander retired the side in order in three different innings for his second triumph of the campaign.
"We're good on the mound," Kelly stated when asked about the performances by Gutowski and Melino. "They all can be very talented. They'll give you gray hairs, but they do what they're told and throw strikes, be around the zone and let their defense do the work."
With the wins MCC has now taken five straight and grabbed a commanding two-game lead in the WNYAC.
"It shows these guys that we're not messing around," Kaczka stated. "We're here to win it all. Just like I said at the beginning of the year, I want these teams to be scared of us. I think we're starting to put that in their minds a little bit."
Kaczka finished with four hits, four RBI and two runs scored.
Scorza had two hits and three RBI.
Mendick added three base raps with an RBI, stolen base and a run scored.
Carolina scored twice and drove in a pair.
Bomasuto chipped in with three hits including his nation leading 13th triple of the season.
Rosario walked once, crossed the dish on three occasions and rapped two hits.
Austin Alonge (Westfield, NY/Westfield) drove home two for Mercyhurst with his triple. The third baseman also got it done defensively with a pair of sparkling plays at the hot corner. His bare hand grab of a Carolina bunt took away a hit from the fleet-footed freshmen. Alonge also snared a line drive from Rosario just inside the bag.
On Tuesday, Monroe scored three times in the seventh before beating Genesee Community College in extra innings, 4-3 for their first double-header sweep of the week. MCC walked off with a 13-inning 3-2 triumph over Onondaga CC on April fourth.
The Tribs travel to Cortland to take on Tompkins Cortland CC on Sunday. Monroe returns to conference on April 23rd with a doubleheader at Mercyhurst.