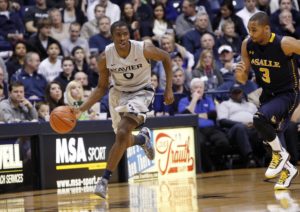 All that is good with Atlantic 10 men's basketball.
Henry, Wyatt and Christon earn weekly honors
NEWPORT NEWS, Va. — The Atlantic 10 Conference has named Charlotte's Pierria Henry and Temple senior Khalif Wyatt Co-Players of the Week, while Xavier freshman Semaj Christon earns A-10 Rookie of the Week honors. The awards were announced Monday for games played during the week of March 4 – March 10.
Pierria had a pair of double-doubles in a 2-0 week for the 49ers.  For the week, he averaged 15 points, 10.5 rebounds, three assists and 2.5 steals per game.  In an overtime win over Duquesne, Pierria had 18 points, 15 rebounds, five assists, three steals and one assist.     He capped the week with 12 points and 11 boards in a Charlotte victory over Saint Joseph's.
Wyatt averaged 24.5 points and 7.5 rebounds in a 2-0 week for the Owls.  At Fordham, he recorded his first career double-double, scoring a game-high 19 points and grabbing a game and career-high 11 rebounds in the Owls' 74-55 win.  In an 84-76 win over No. 19/21 VCU, he led all scorers with 30 points – his fifth 30-pt game of the season.  He also grabbed four rebounds dished four assists and had a game-high four steals.
Click here to read more and see the Honor Roll.
St. Louis claims top seed
NEWPORT NEWS, Va.–Saint Louis has claimed the top seed for the 2013 Atlantic 10 Men's Basketball Championship, which begins Thursday at Barclays Center in Brooklyn, N.Y. The Billikens captured their first A-10 regular season title outright with a 13-3 conference record and will receive a bye to the quarterfinals.
Click here for tournament schedule. 
Bills oust La Salle, capture A10 regular season title
ST. LOUIS (AP) — No matter how flawless a win appears, coaches always seem to have something to quibble about. Not so much this time.
St. Louis finds success after loss of Rick Majerus
The day after Rick Majerus died, he reappeared, as four words materialized on an oversized dry erase board in the Saint Louis basketball locker room. It was game day. On game day, a coach never sparing with colorful, side-winding chatter refined his message to something pure and categorical. To win: defend, rebound. Four words, six syllables. That was what Majerus wrote for his team, every time. That was all his team needed to know.
Read More: http://sportsillustrated.cnn.com/college-basketball/news/20130227/saint-louis-after-rick-majerus/#ixzz2NIBve4Mi
St. Louis deals with real loss
WASHINGTON, D.C. — They all have stories. Anyone who crossed paths with Rick Majerus had a story, and so naturally the last team to play for him has them, too.
There was the time Majerus came to Cody Ellis' place in Perth, Australia, and the Milwaukeean gave the kid who grew up two blocks from the beach bodysurfing tips.
Temple topples VCU 
PHILADELPHIA— The Temple Owls clinched a first round bye and the No. 3 seed in next week's Atlantic 10 Conference Tournament by beating the No. 21/19 Virginia Commonwealth Rams, 84-76, on a CBS national broadcast and in front of a soldout whiteout crowd at the Liacouras Center. Senior guard Khalif Wyatt scored a game-high 30 points on his Senior Day to help lead the Owls charge back from a 16-point deficit to beat the Rams. Graduate student Jake O'Brien added 19 points in Temple's comeback effort.
Temple seniors have winning attitude
PHILADELPHIA — Every day for the past six months, Rahlir Hollis-Jefferson, Jake O'Brien, T.J. DiLeo, Khalif Wyattand Scootie Randall filtered through the weight room nestled inside the Pearson McGonigle complex before or after the day's practice session to focus on strength and conditioning.
Despite whatever physiological advice they gleaned from their daily sessions, the five seniors found within that room a different type of wisdom.
Wyatt named Big 5 Player of the Week
PHILADELPHIA – Temple University senior guard Khalif Wyatt has been named Atlantic 10 and Philadelphia Big 5 Player of the Week, for the week ending March 10. The Norristown, Pa. native (Norristown HS) shares the A10 honor with Charlotte's Pierra Henry, marking the fourth time he has won the award.  He earned his sixth Big 5 honor of the season outright.
Talking #A10MBB with The MatchupZone

Butler edges Xavier in finale
INDIANAPOLIS, IND. — Senior Rotnei Clarke scored a game-high 21 points and sophomoreKameron Woods came off the bench with 15 to help lift Butler to a 67-62 victory over visiting Xavier in the final regular season game for both teams on Saturday (March 9).  The win gave the Bulldogs a tie for third place in the final Atlantic 10 Conference standings.
VCU wins thriller over Richmond
VCU used lockdown defense over the final three minutes to pick up their 24th victory of the season in a thrilling 93-82 win over crosstown rival, Richmond. SeniorDarius Theus led the way down the stretch, sparking a 14-3 run to close the game with back-to-back defensive stops, leading to back-to-back buckets by junior Juvonte Reddic. In a game that featured nine ties and 10 lead changes, sophomore Treveon Graham led all scorers with 21 points on 8-of-11 shooting. Graham was one of five Rams in double-figures.
Richmond routs Duquesne
UNIVERSITY OF RICHMOND, Va. –  Freshman Terry Allenscored a career-high 17 points as Richmond led by 36 in a 79-55 win over Duquesne in the regular-season finale Saturday in the Robins Center.
@BonniesMBB loses to Fordham on Senior Day
ST. BONAVENTURE, N.Y. – The St. Bonaventure men's basketball team (14-15, 7-9 Atlantic 10) lost to Fordham (7-24, 3-13 A-10) on Senior Day in the Reilly Center on Saturday afternoon, 76-72. Youssou Ndoye scored a career-high 17 points, while Demitrius Conger and Eric Mosleyalso scored 17 points with Conger grabbing a team-high six rebounds.
Read more…

Bonnies' season of missed chances ends
Everything was set up the way Mark Schmidt could have wanted. His St. Bonaventure team controlled their own destiny, win and in, as they faced off against the lowly Fordham Rams.
Armwood's slam secures GW win over Dayton
WASHINGTON – Isaiah Armwood's tip dunk with 2.4 seconds remaining in overtime capped a 6-1 run over the final 40 seconds and gave George Washington men's basketball an 81-80 victory over Dayton at the Charles E. Smith Center on Saturday.
Galloway leads Explorers over GW
PHILADELPHIA – Senior Ramon Galloway dazzled the La Salle faithful one last time on Wednesday evening at Tom Gola Arena, leading all scorers with 29 points (11-17 FG, 4-7 3-PT, 3-3 FT) in an 84-70 victory over George Washington on Senior Night.
UMass rebounds for win at URI
KINGSTON, R.I. — Chaz Williams had 20 points and 10 rebounds, while Freddie Rileyknocked down six 3-pointers as Massachusetts rebounded from Thursday's loss with a 75-66 win at Rhode Island Saturday afternoon.

Got anything to add to the Bounce? Please post it in a comment.