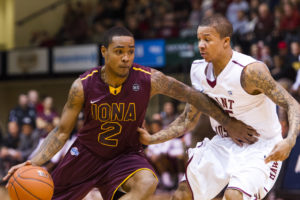 By Paul Gotham
SPRINGFIELD, MA – David Laury III notched a double-double as the Iona Gaels downed the Niagara Purple Eagles, 79-73 in the semi-finals of the Metro-Atlantic Athletic Conference Tournament at the MassMutual Center Sunday afternoon.
In a game where neither team led by more than single digits, it was Iona's inside play, not its guard play which made the difference.
"All different guys gave us contributions today," said Iona head coach Tim Cluess. "The kids played their hearts out for 40 minutes. We're fortunate to come out on top."
Laury and front court mate, Taaj Ridley combined for 36 points including nine of the Gaels final 19 points.
"Dave came through big tonight once again. Taaj came through big tonight once again," commented Iona guard Momo Jones. "It's a big difference when it's not just me and Sean (Armand). Now you can't guard us how you usually guard us. You can't nitpick on one thing. It opens the floor up for a lot of different things."
A lot of different things came in the form of a Tavon Sledge three-pointer with 6:37 remaining.
"It was planned," Armand said with a smile. "We told him to shoot it when he's open."
The shot was Sledge's only attempt from behind the arc all day and just his fourth make in 15 attempts from long range on the season.
"Guys yell at him every day to shoot more," Cluess added.  "We kinda give guys the freedom. If you're open, shoot it."
It gave Iona its largest lead of the afternoon at 70-61.
"When we have four or five guys giving us good contributions with other guys coming off the bench helping us in different roles then we're a pretty good basketball team," Cluess added. "Right now we're a pretty good team."
The number one seed Purple Eagles scratched back.  Antoine Mason and Ameen Tanksley each connected on one-of two free throw attempts. Tanksley finished a drive and traffic cutting the deficit to five at 70-65. After a pair of timeouts, Niagara put together a furious possession with a pair of offensive rebounds before Juan'ya Green drove the lane for a bucket to cut the Iona advantage to 70-67.
But the denizens of Monteagle Ridge could get no closer.
"They were the better team today," commented Niagara head coach Joe Mihalich. "They deserved to win."
The Purple Eagles played the game without freshman starting point guard Tahjere McCall who injured his knee in Saturday's quarter-final victory over Siena.
"There are excuses, and there are facts," Mihalich said. "The fact is our starting point guard didn't play. He gives us 20 to 23 minutes of terrific perimeter defense…The team we put out on the floor today was not as good as the team that scored 79 points."
McCall's absence obviously impacted Green, who took over the primary ballhandling responsibilities.  Green handed out four assists (one under his average), but struggled behind the arc missing all seven of his attempts and finishing with 11 points on 17 shots.
"He (McCall) gives Juan'ya a chance to get off the ball and not have to do as much," Mihalich explained.
But the story was Laury who finished with 20 points, 17 rebounds, two assists and two blocks.
"The whole year these guys (Momo, Sean) have confidence in me and telling me to do certain things," said Laury who sat out the first half of the season per the NCAA transfer requirements.  "Sometimes I lack aggression. I feel like I should be aggressive and takeover inside every game."
Ridley added 16 six as the Iona front court outscored its back court by six.
Jones and Armand combine to average more than 40 a game for the Gaels.
Marvin Jordan paced a 17-7 Purple Eagles run midway through the first stanza. After Ameen Tanksley secured a loose ball in the lane and scored, Jordan took an inside-out pass from T.J. Cline for a three-pointer and Niagara trailed 9-7.
Antoine Mason sandwiched a Devon White basket in traffic with a pair of free throws and a jumper to tie the score at 16.
Jordan gave Niagara its first lead on a catch-and-shoot trey. White ran down an offensive rebound and kicked it to Mason at the top of the key. Without hesitation, Mason kept the ball moving to the right wing where Jordan hit for a 19-16 NU edge.
Tanksley stretched the margin to six when he corralled an offensive rebound for a bucket.
Iona answered.
Jones hit a three. Taaj Ridley followed a Laury miss in transition with a dunk.  Sean Armand hit Ridley slicing through the lane in transition putting IC up 36-35.
Mason quickly responded with a trey on a quick penetration and kick from Green.
Jones made it 39-38 with his own trey.
Green closed the first twenty with a drive for two and 40-39 Niagara edge.
The Gaels outrebounded Niagara 23-14 before the break.  Despite grabbing eight offensive boards, the Gaels converted those opportunities into eight points while NU had nine on second chances.
Mason led all scorers with 21.  Tanksley added 14. Cline and Jordan each had 11. Jordan led all with six assists.
The Purple Eagles bench outscored Iona 11-6. Niagara also held the advantage in second chance points (15-13) and points off turnovers (12-8).
Iona advances to Monday night's MAAC Championship against the Manhattan Jaspers. The game will tip off at 9 p.m. with coverage on ESPN2.
Iona defeated Manhattan 78-70 on January sixth. The Jaspers returned the favor with a 74-73 triumph in double overtime on February 15th.